Compass Cay — 12•05•21
Anchor up by 0650. We had a 30nm day run today. Wind a little on the nose again. I hadn't been to Compass Cay before and the anchorage got good ratings.
Easy motor sail with a bit of current and wind heading up the channel to Compass Cay. We turned in and were out of the rough water, but there was still a bit of current ripping through here. The passage was narrow and a few boats anchored in the middle and we had to squeeze by them. I got to the spot I had on the map, but the bottom was much shallower than what was listed. I inched in and go the anchor set. The current was making the boat swing a bit out of the wind direction. I figured when the tide changed I would still be OK.
We took the dinghy out and checked the anchor. I physically lifted the anchor and walked it back 50ft to deeper water as a safety measure. The anchor is 33kg (73lbs), so not something you should be swimming with. Out of breath but happier with the boat location. We set off to explore a few areas for lobster and explore the marina that had a wicked-looking entrance for the large yachts that were in there.
Wrestling Currents
We headed back to the boat to find it had changed direction with the tide change and was in very shallow water. YIKES! I proceeded to get out my second anchor and try to get the boat back into deeper water and keep the boat from swinging so much with the tide changes. It was a pain and I'd have to check it again during the next tide change at 0200 (2:00 am). Why does this anchorage get high marks, I don't know. I'd give it a 2 out of 5. Cambridge is only a short distance and much prettier with mooring balls. I'll skip this next time.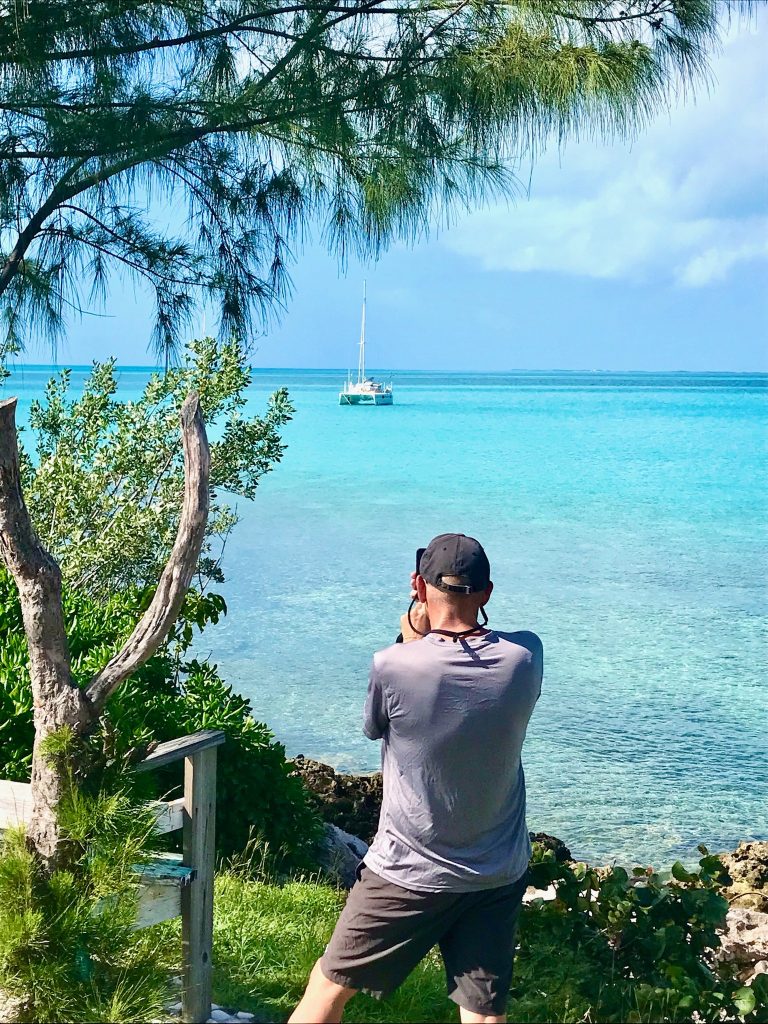 Black Point Settlement — 12•06•21
0700 anchor up and out of Compass Cay. Today we are heading Black Point Settlement. It's a short run with the wind again on the nose. We didn't even bother putting up the sail. We passed Stanila Cay known for the swimming pigs and grotto. It looked crowded. A large yacht called Man of Steel (Ex Steven Spielberg's Yacht – Seven Seas) passed us and seem to dwarf the other large yachts around us.
We got the anchor down before noon. We then proceeded to get our laundry together, as Black Point is known for its laundromat. Off we went to do laundry, drink clicks, and explore a bit.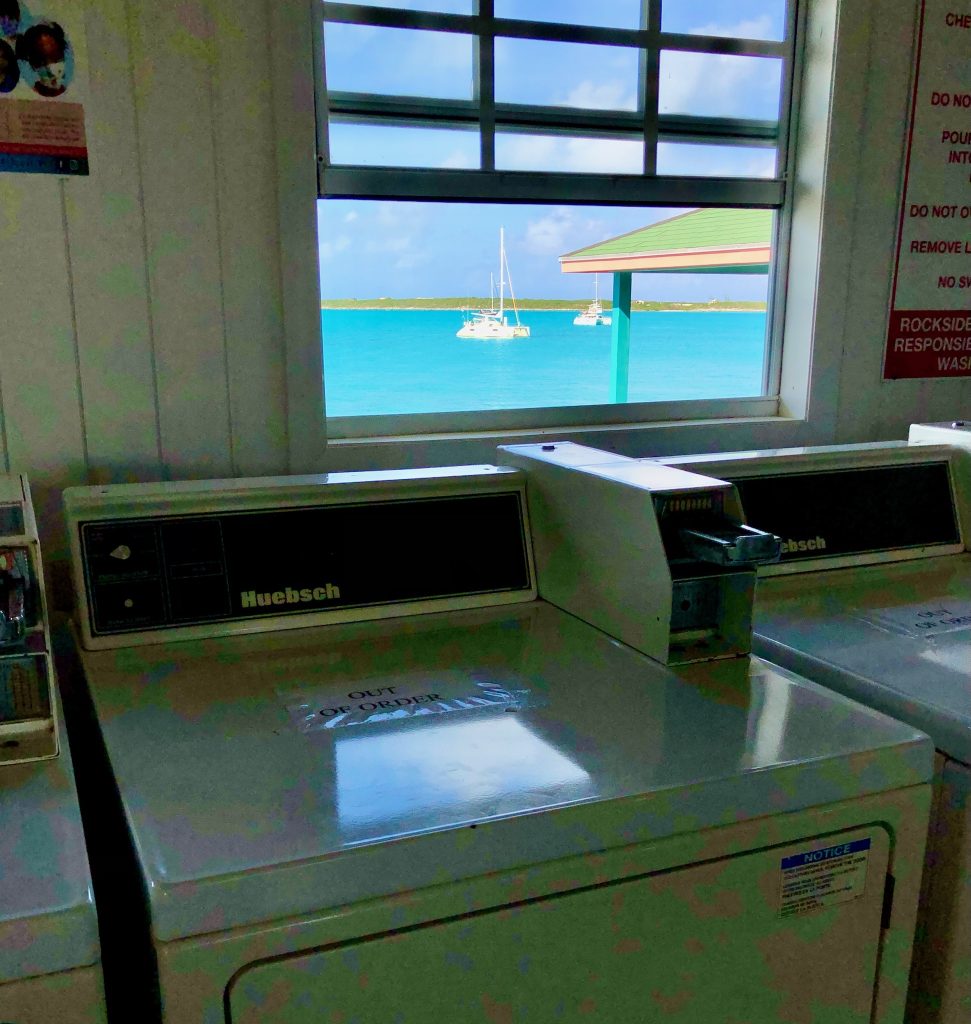 We had a nice dinner at Lorraine's Cafe, which also surprised Pete with a birthday cake for his big Six Oh birthday. Also had to stop at grandmas and pick up some coconut bread for french toast.
Always a good time at Blackpoint Settlement. Staying longer here had to wait. I still wanted us closer to our destination as getting into the marina had to be timed with weather and tides.
Williams Bay, Lee Stocking Island — 12•07•21
0725 anchor up and underway to Lee Stocking Island. Wind on the nose again as we had to head off the banks and on to the sound. We were motoring into the wind, so the waves got a bit lumpy. We put a pole out with our last lure. A Mahi Mahi played with it but never took a big hit at it. I guess all our "good" lures were gone 🙁
Coming Adderly Cut at Lee Stocking can be a bit nerve-wracking with breaking seas onto rocks on either side, with some of the rocks partially submerged. You have to trust the charts and try to hold the boat steady as the current moves you around.
We got through and the water settled down. In calm waters, we did our turn and headed for Williams Bay, which we ended up having all to ourselves. We both have been here numerous times. We also had our first lobster kills here last year, so we were hoping to get some more.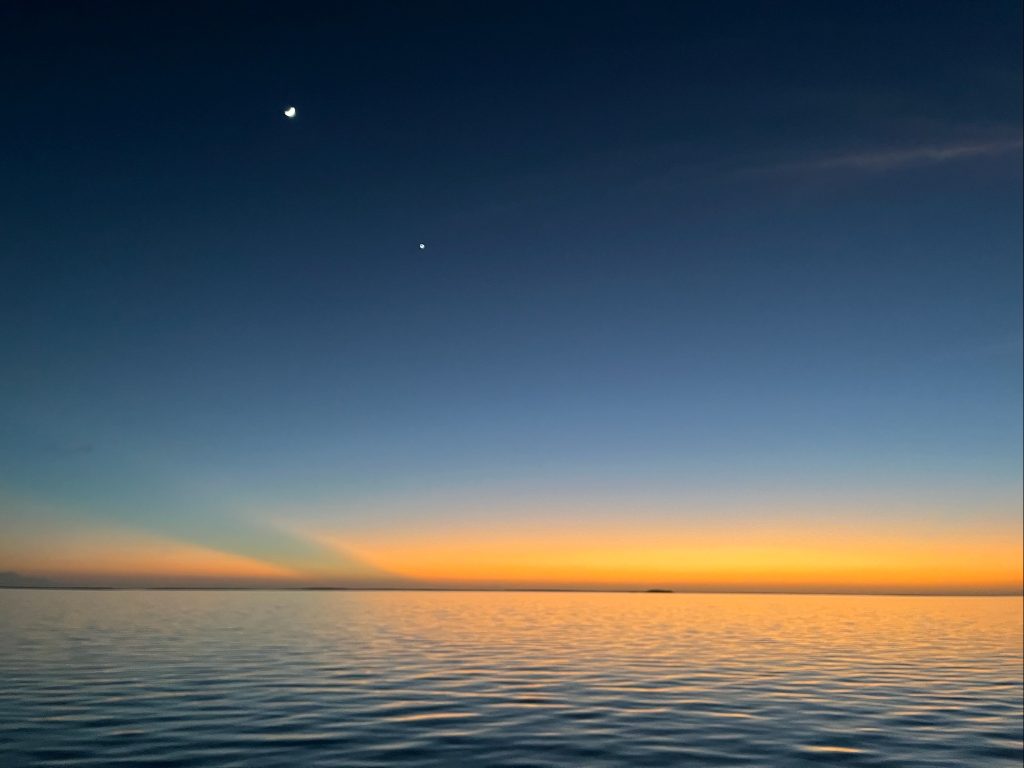 Clear Waters of The Exumas
With the Gin Clear Waters of the Exumas, I did some boat bottom scrubbing, changed the saildrive zincs, while Pete swarm a short distance to do some snorkeling. He saw a lobster and called me over to bring the spears. We got him to come out of his hole but he swam straight at us so we couldn't get a good shot. I probably should have just grabbed him with my hand as he hit my leg swimming at me. Oh well, we'll try again tomorrow. We have the rule, to be out of the water by 1600 hours (4:00 pm). Early the next morning we saw splashing and a big commotion near where we found the lobster. With the binoculars, you could see the dorsal and caudal fins of a large shark swimming and attacking something. New rule: No swimming before 0800 hours.