03/15 s/v Trouble Update: Kurt flew into Great Exuma. I picked him up at the airport with a cab driver we used a lot during the 10 days he was here. We got out of here the following day as more weather was coming in and I wanted to get him to experience at least one night on anchor. We had a great sail to a remote anchorage. No one around us. It was super nice. But then within a few hours, we were surrounded by about a dozen other boats. Uggg. Oh well, 7 of the boats were cruising together and invited us to the beach for sundowners. So all was not lost. We high-tailed it back to the marina the next day as the weather was coming in, and Kurt also had a guided fishing trip planned.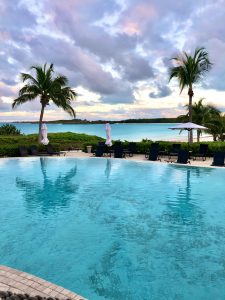 We spent most of his time here at the marina, as the wind was not cooperating with any kind of boating activity. We got out one other time for a quick jaunt to "Chat & Chill", where we met up with some other cruisers I've been hanging out with. The time went by fast and Kurt was out of here to Florida to meet up with Marlene and family friends. The wind finally settled down and my time at the marina was up. One of the people I'd been cruising with had their starter motor die, so I took the boat to George Town to grab one from another cruiser who just happened to have a replacement spare one on board. I then delivered it to them, at the anchorage they were stuck at. It was a long day for me. We got it installed and fixed some other wiring issues. They were very appreciative that I did that for them. I seriously had nothing else to do, and it was fun to pull it off. The next day we went out lobstering. Neither of us had caught one before. But after some swimming and looking we finally saw one, and it was big. In fact, there were 3 large ones.
It was exhilarating to spear the monster and get it back to the boat. We went after the other two and got one and one got away. We wanted one more to make it 3 kills. Then a monster one was found. It took a bit to get him, but finally, he was nabbed. We cooked them on Trouble that night. It was a very fun day and nice that we both got our first lobster kills.