04/22 s/v Looking for s/v Trouble Update: It has been a while since my last update. Time wastes away down here if you're not careful. So last I left off, I had to get out of the Raggeds before the big northerly. All the cruising yachts ended up on one small island for the final jump out of the Raggeds, which is a technical sail/navigation. Almost all the boats were going to the same anchorage for the big northerly. A lot of angst to get there first to get a good anchorage spot.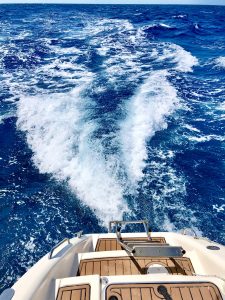 As the morning came it was a mass exists. It was a sea of sails as we had great wind for the first half and a hard beat into the wind for the final leg. I think I made a few expensive yachts upset as Trouble effortlessly took the lead, and out-performed them all. She and I were in our element and loving it. She really is a great boat and holds her own, very well, for being a 20 year old boat. As we got to the second half of the trip we had to go directly upwind. Most of the sailboats turned on their motors to go upwind. I sailed and tacked Trouble through this leg and still was the first one in. This anchorage was huge and easily handled the 50 plus sailboats there, with lots of room. Thompson Bay, on Long Island, was a great anchorage for the northerly. When it was done, I headed back to George Town to get my Visa extension. This took a few emails and a phone call. After that, I went back to the Marina at Emerald Bay, where Kurt and I spent most of his time here.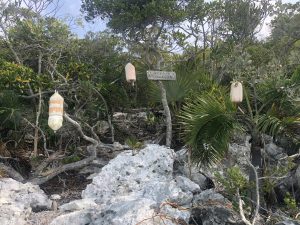 It's nice coming back to familiar spots and seeing some of the same people who were here last time. After getting fuel, washing down the boat, and doing laundry, it was time to start the migration out of the Bahamas. This will take a couple of weeks to do, all dependent on the weather. The winds have been light and I haven't moved much since leaving the marina, but I hope to still get out of the Bahamas by May.