Thompson Bay, Long Island — 01•19•22
My hope was to leave here and head to the Raggeds & Jumentos Islands. But, plans change. One afternoon, sleepy Thompson Bay became too crowded as a large wave of boats came in. I wanted to leave but, the weather didn't look great for heading south the next few days. The wind looked good for sailing north, so I pulled anchor and set off to Cat Island. It was a pretty long trip and I needed to stop at "Rolly Polly" Calabash for a night, before heading to Cat Island.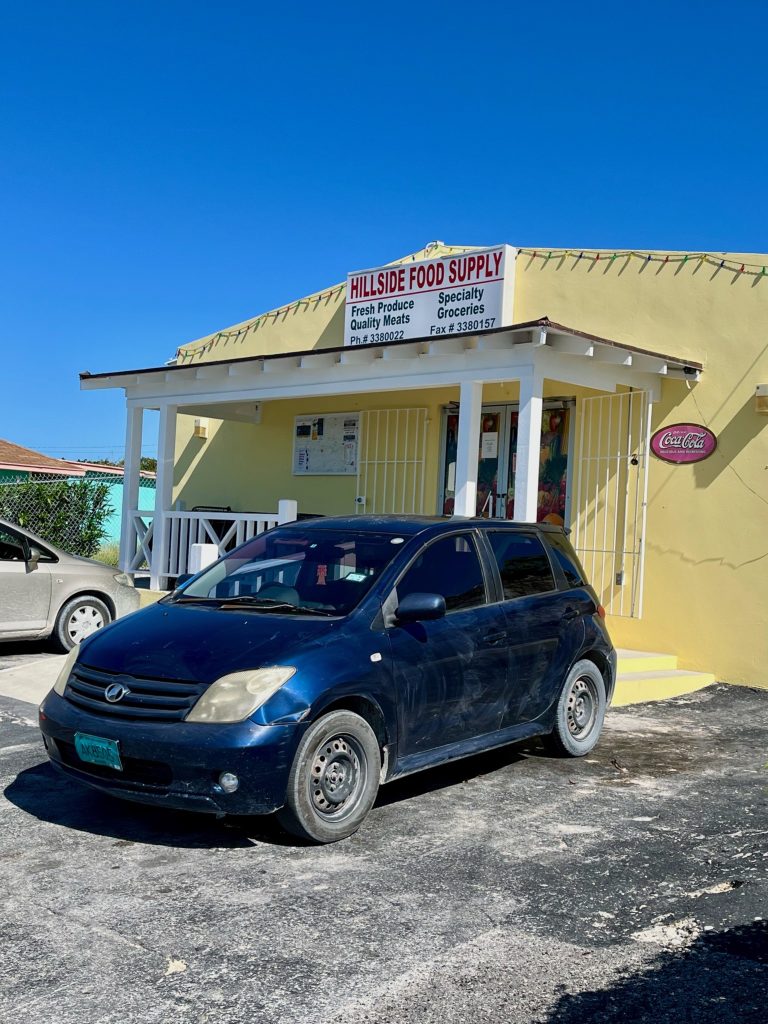 Rolly Polly Calabash
It was a great sail up to Calabash. One of those perfect sails with great wind and very few waves. I was going to try a different anchorage a few miles south of Calabash, but it seemed the swell that affected the anchorage before would not be a problem.
I pulled in and dropped anchor. A few boats from Thompson Bay also followed me up to Calabash. I suspect they thought it was crowded there too.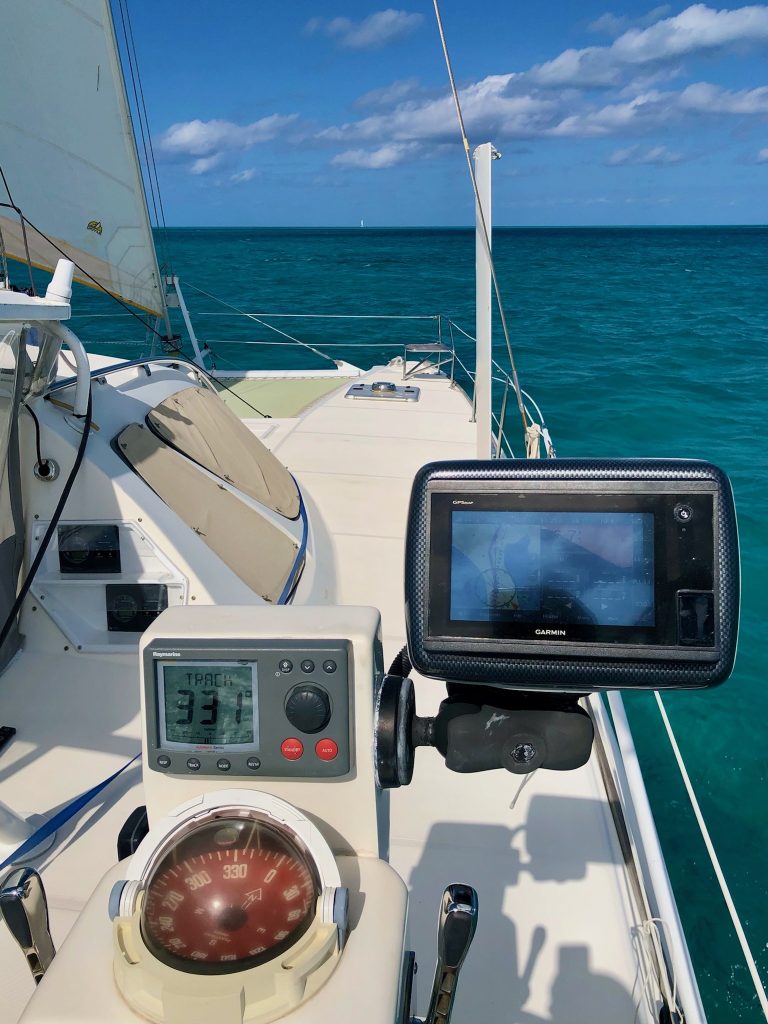 New Bight, Cat Island — 01•20•22
I was up early, getting underway by 0730 (7:30 am). Another great sail to Cat Island. It was a little bumpy, but not bad. It was a quiet day on the water seeing almost no other boats. I pulled into New Bight with only one other boat, which left early the next day.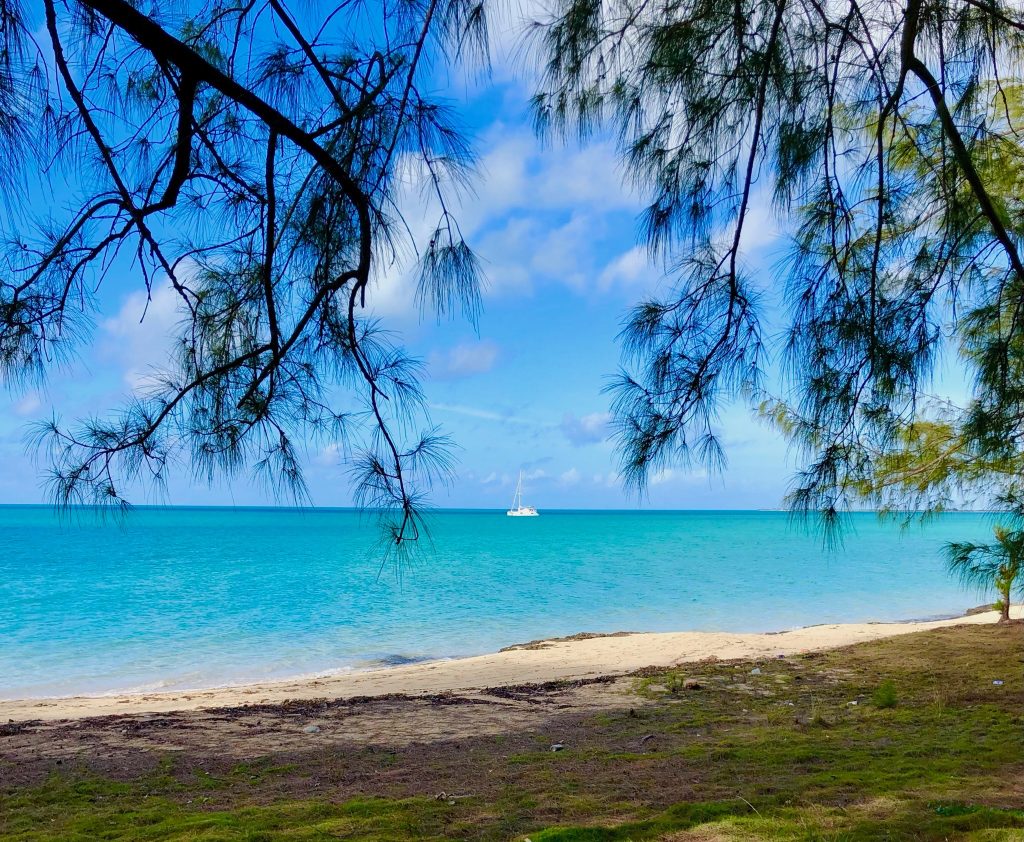 The next day I went to shore to do some grocery shopping and stopped at Olives to get some freshly baked bread. Some of the old "Fish Fry Shacks" I visited last year on the beach seemed to have burnt down. I wanted to try a different bay a little further north, so I pulled anchor in the afternoon and headed over to Fernandez Bay.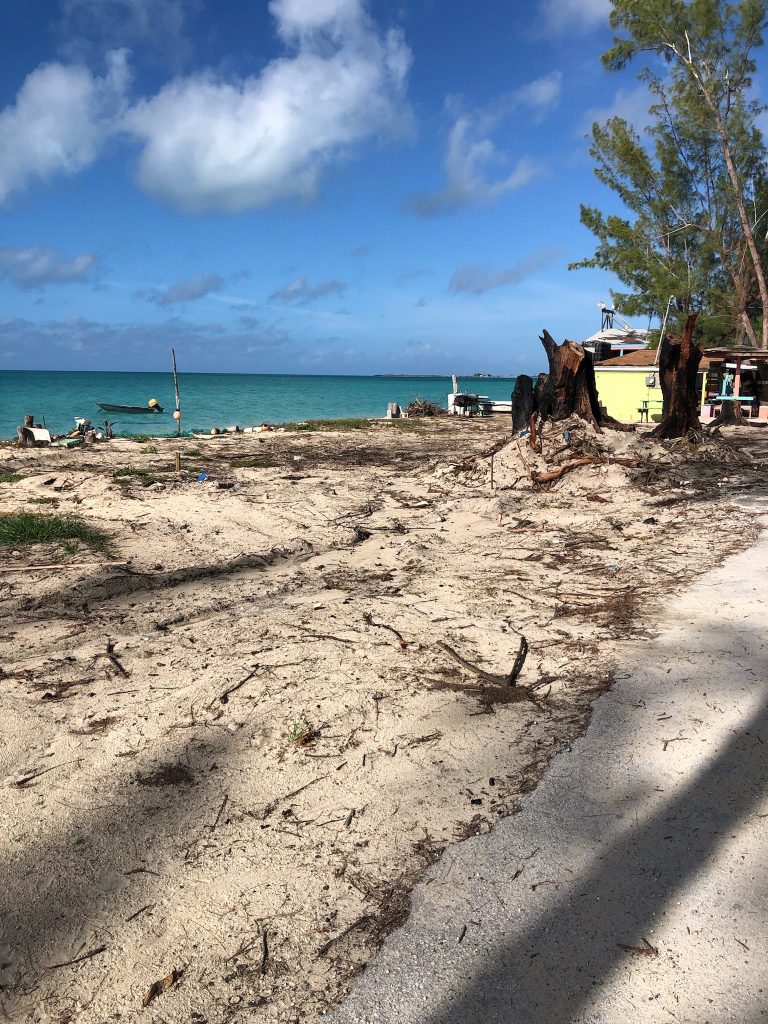 Fernandez Bay, Cat Island — 01•20•22
Trouble pulled into this quiet little bay with only one other boat. I hung out here for a couple of days. Boat projects were on the list and just chilling enjoying the windless days.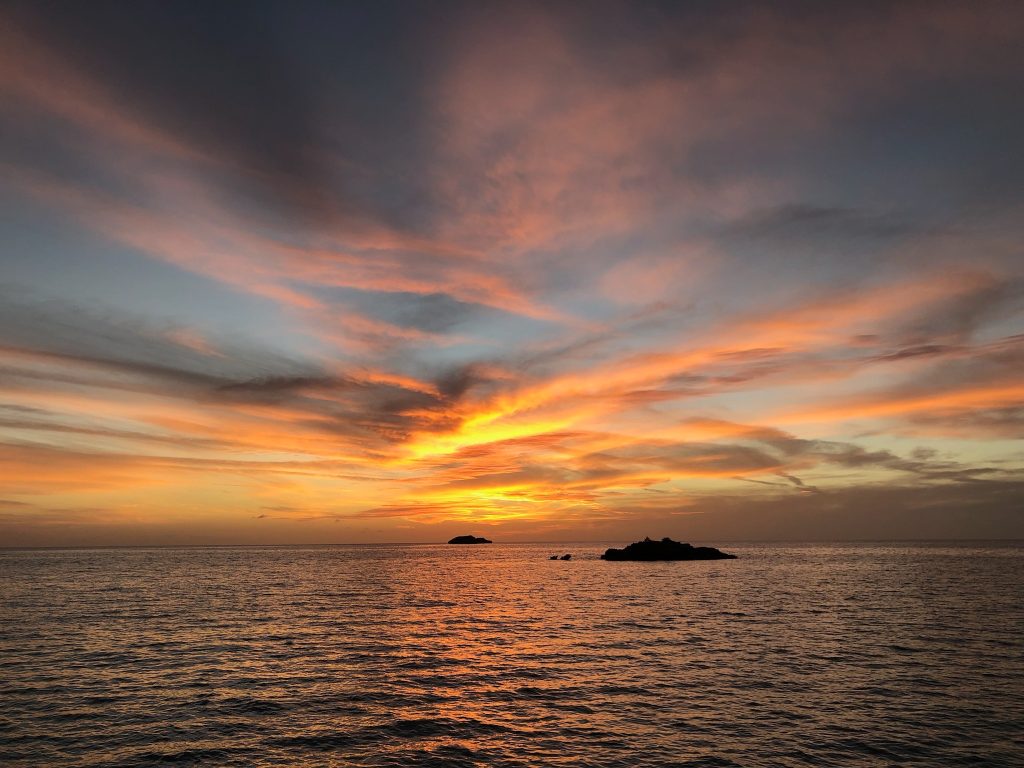 The weather for the next few days was going to be very light wind and after that, the wind would fill in from a direction I didn't want to go. I did have a mission that I failed at on Cat Island and that was to get to the only ATM on the island. Of course, when I asked about it at the grocery store I could out it was out of order and had been for the past few weeks. Back to changing plans again.
Georgetown, Great Exuma— 01•23•22
Back to Georgetown, as they had a working ATM. The wind was very light so it was a motoring day. I set up Trouble to run in "Eco Mode", with running one engine at a time to save fuel. The water was very flat and deep. The water in this part of Exuma Sound runs thousands of feet deep.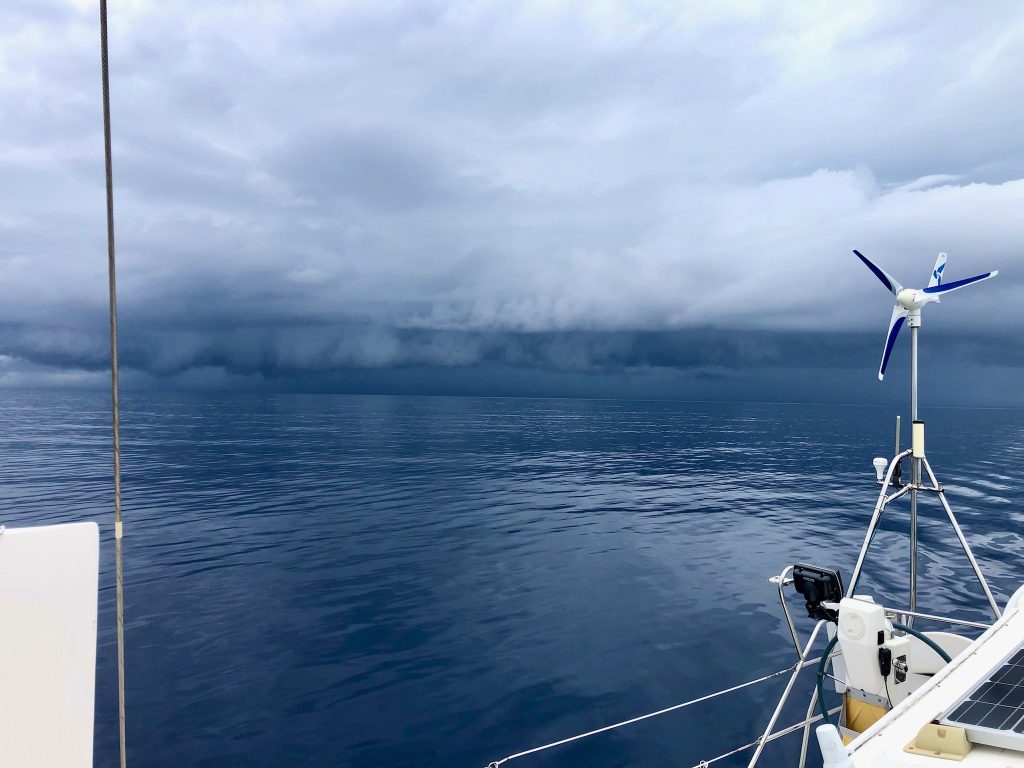 My day was basically dodging thunder & rain squalls. No one else was out here, it was a pretty quiet trip till I got to Conch Cay Cut leading into Georgetown.
I could see in the distance the mass of cruising boats anchored off Chat and Chill. I was going to anchor across the way closer to town. This might be a bit bumpier as it has less wind protection, but it's a close dinghy ride to town. The wind was supposed to drop to nothing in the next few days before the next front comes through.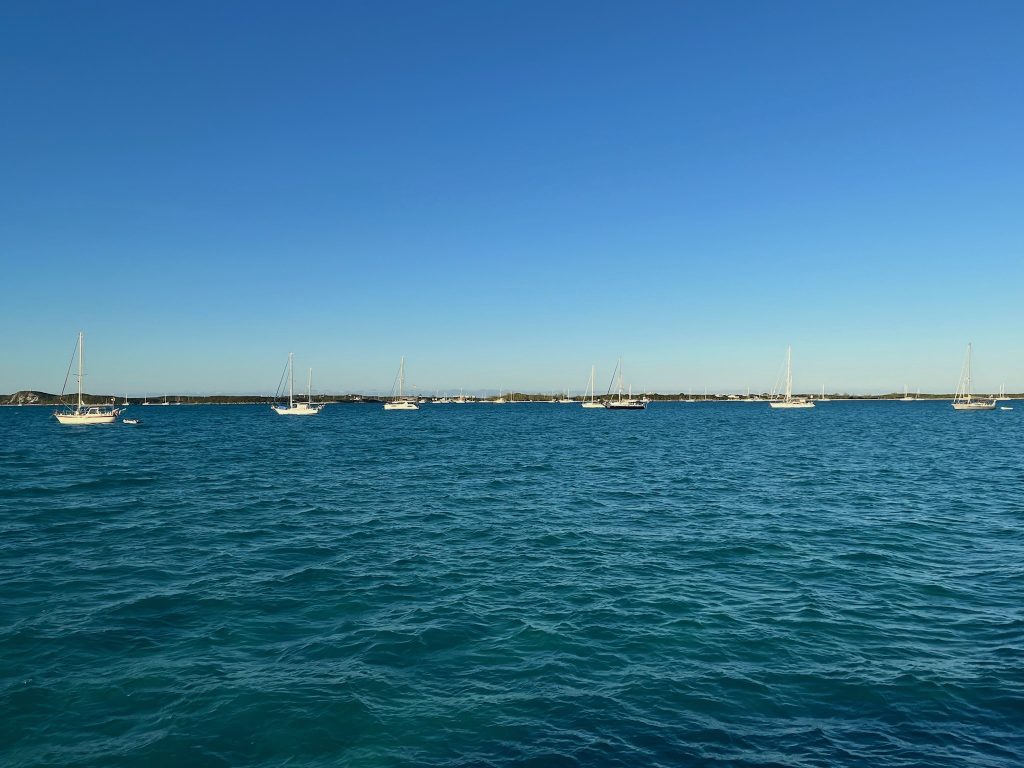 With money secured at the ATM, I went about doing some extra shopping. I still need to get some diesel fuel for Trouble and gas for the dinghy. In Georgetown, you have to "Jug" your fuel to the boat. This is where you take your dinghy to shore, fill jerry cans of diesel, and run it back to your boat. I'll try to do this tomorrow if there is even diesel at the station. I might also have to take the dinghy down to another bay to get the propane tank for the stove filled.
After I get those chores done, I'll have to decide where I want to hide from the next big wind coming next weekend. I might head back to Thompson Bay in Long Island. I'll figure that out tomorrow.