East River — 05•01•22
I left Phoebos/Old Point Comfort and headed to East River where Zimmerman Marine will be hauling me out for the summer. I was 2 weeks early and had to hang out in East River till they were ready for me.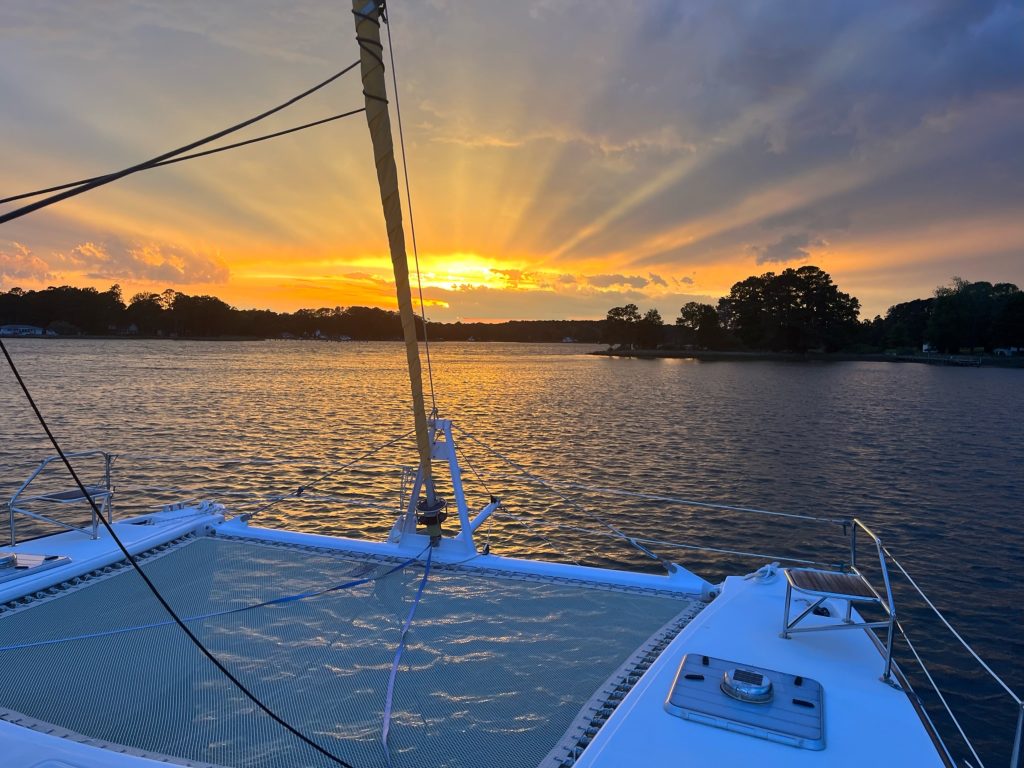 East River near the town of Mathews was not a bad place to hang out for a few weeks. My time was mostly spent cleaning Troubles' bottom to keep cool, looking at sunsets, and bracing for thunderstorms.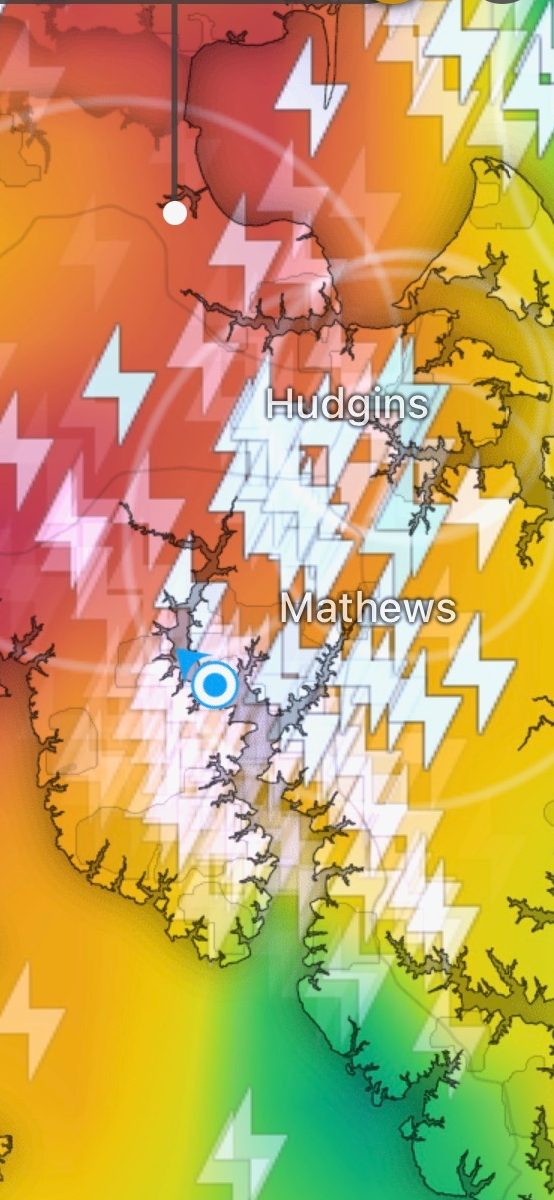 Haul-Out Day — 05•15•22
Zimmerman Marine is hopping this year, as it seems to be the popular haul-out spot for catamarans. The Chesapeake is limited to where catamarans can haul out. Zimmerman seemed to take advantage of this and filled up quickly. You can only get into the inlet where the docks are at high tide. They wanted to get me on the docks for the night so I could haul out first thing in the morning, but I had to wait for a boat to leave first. The tide was dropping quickly. I heard the boat leaving on the radio that they touched the bottom. The yard came out in a skiff to guide me in and asked if I was comfortable going in with the tide this low. I, of course, said let's go! The skiff guided me in, keeping inches from a marker showing the deepest spot. I made it in without touching the bottom. They told me that was the lowest tide they ever brought a boat in.
I had a quiet night on the dock, knowing I had a busy day tomorrow. While getting hauled out I also had my surveyor coming the same day. Insurance requires a survey not over 24 months old.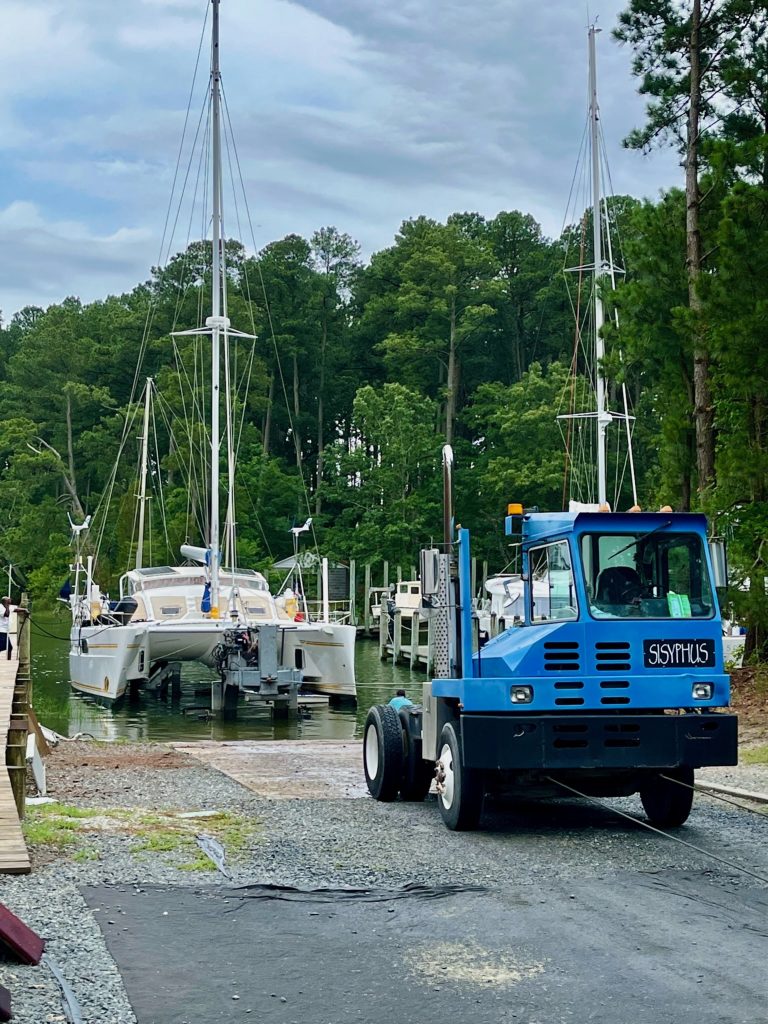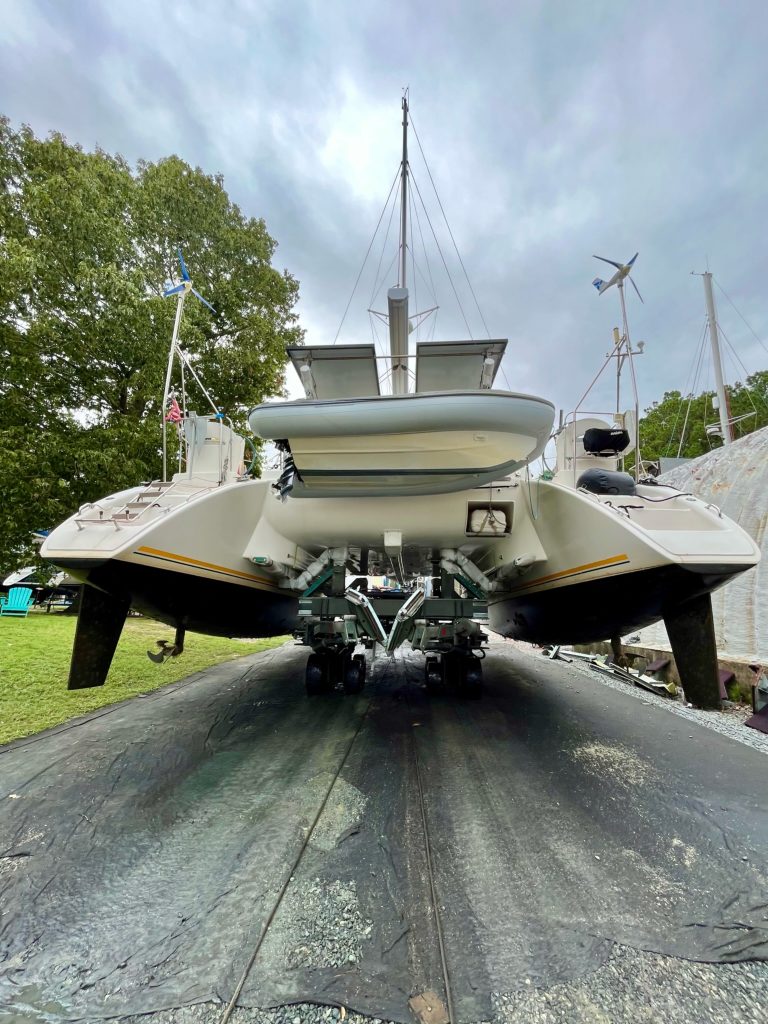 Family Get Togethers & Covid
After Trouble got blocked and secured I was off to Florida for the annual family get-together. After that, I was off to Minnesota for the Fourth of July.
Anxious to get back to the boat as I had a few projects I had to bang out. On the way back from MN, I decided to not wear a mask flying as only 10% of the people at the airport were wearing masks. Well of course 2 days after I get back to the boat I get covid. I'm pretty sure it was from the guy 1 row in front of me that was coughing the whole flight. My Covid was pretty minor, but I did self-isolate on the boat for a week, which put me a bit behind on projects.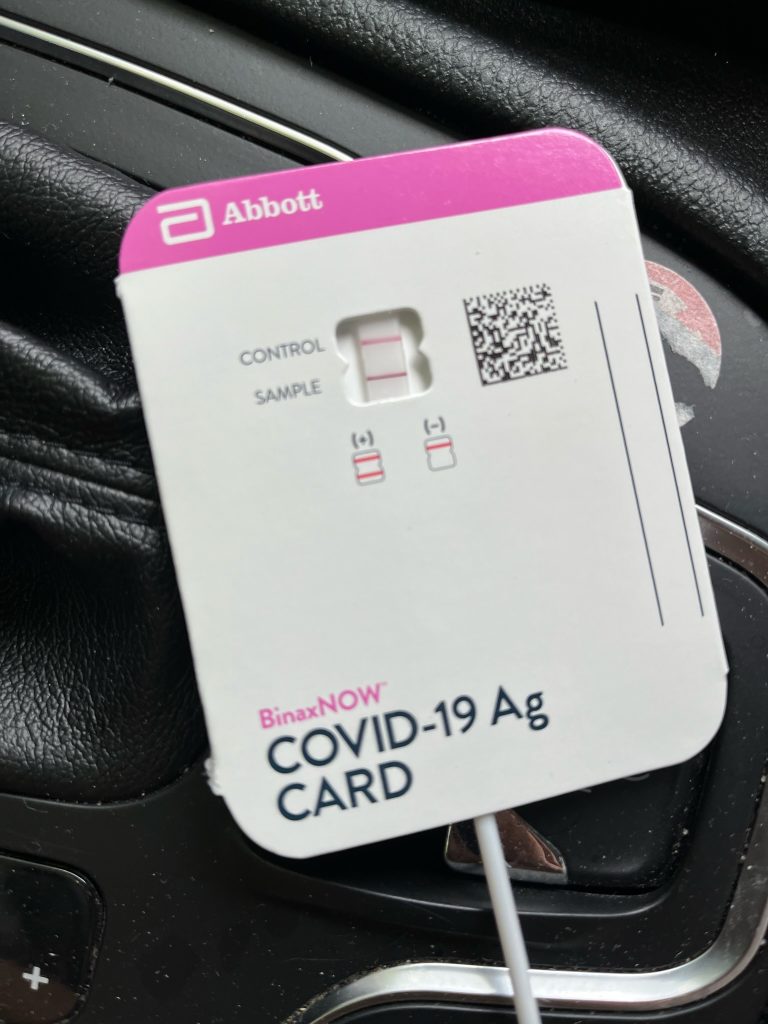 New Bottom, Solar, Washing Machine, and Wax & Buff
Trouble had a few upgrades planned. Trouble had her bottom blasted and then new bottom paint. I also added a Mini washing machine, along with an upgrade to the rear solar panels.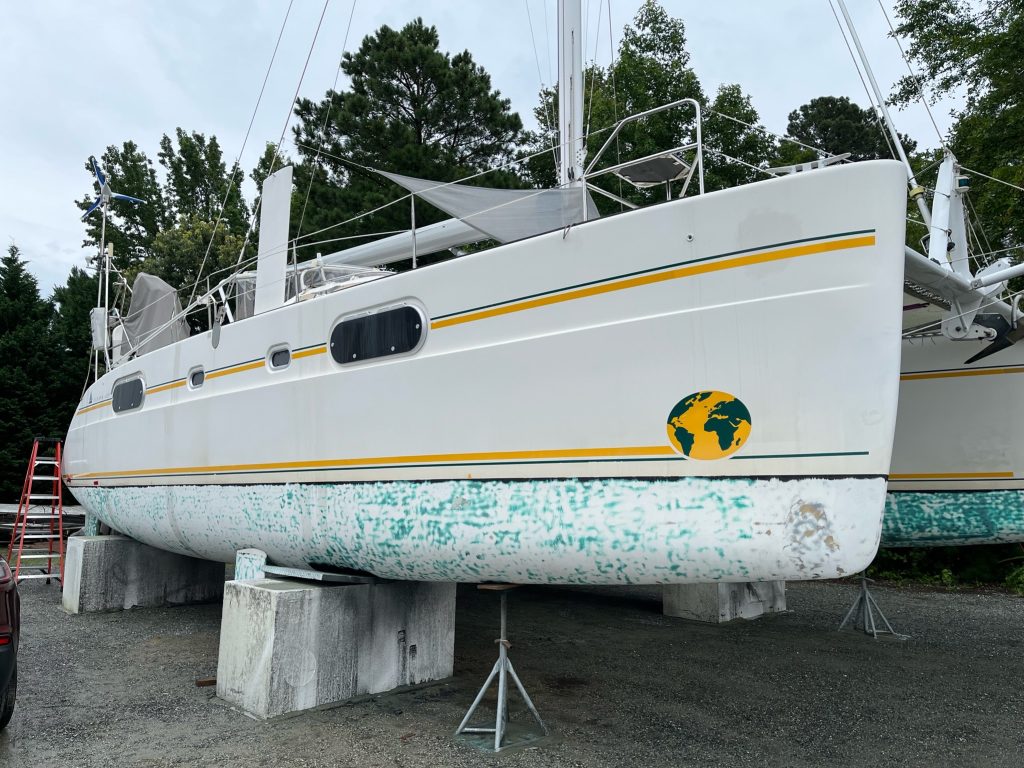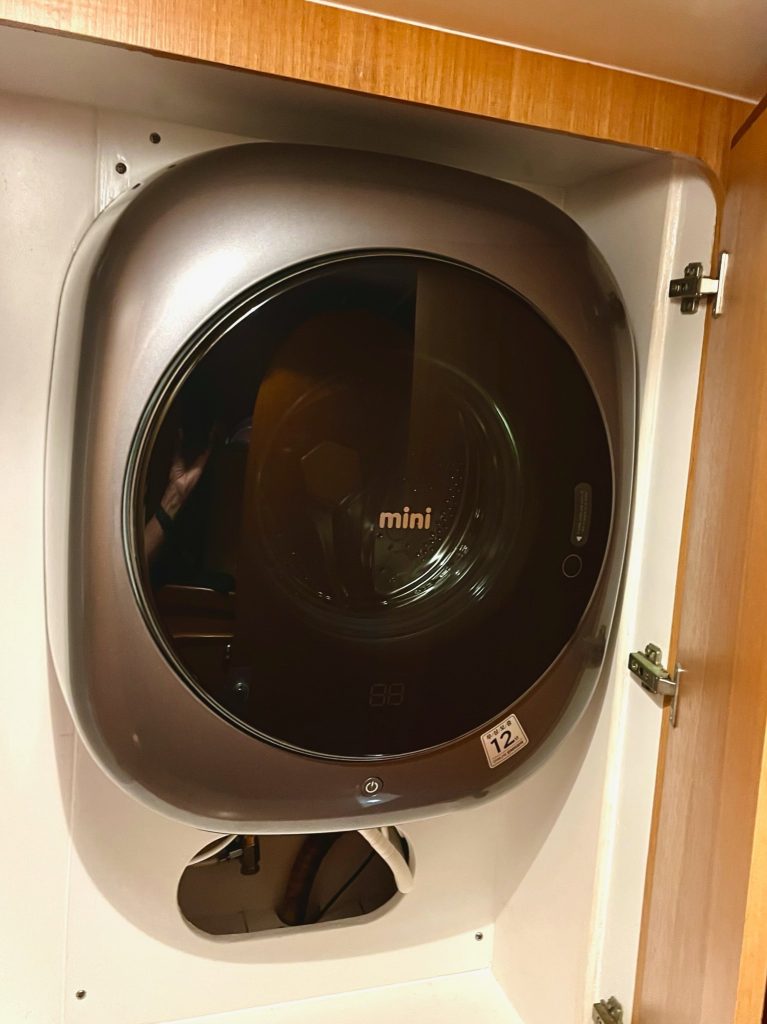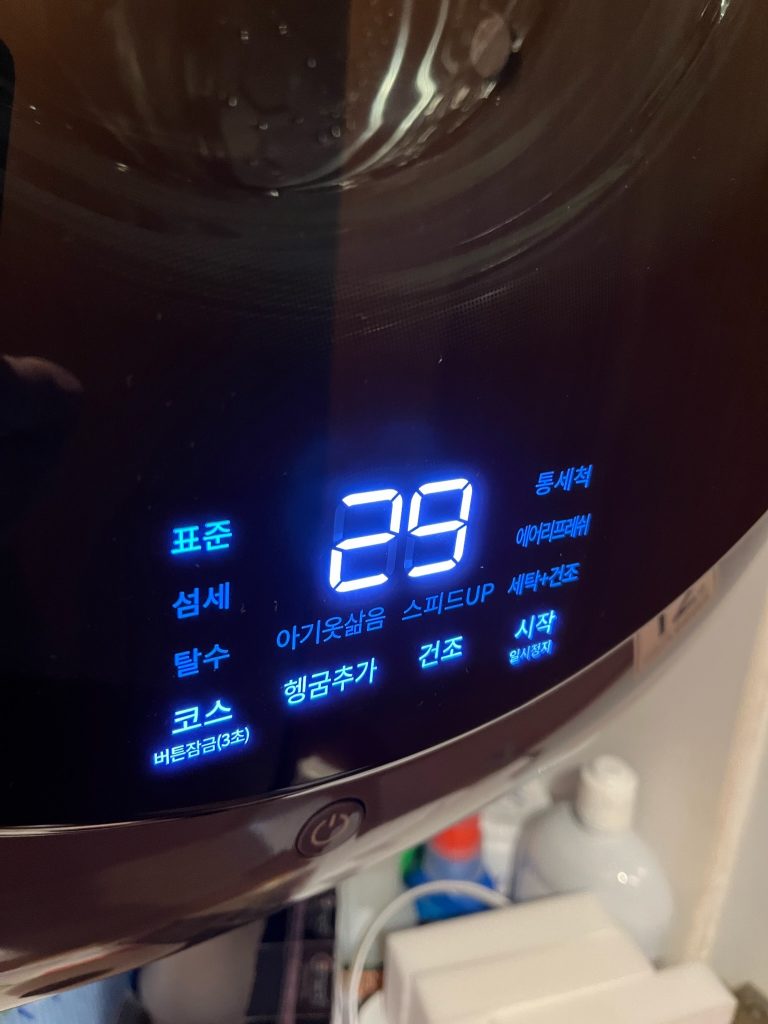 The sandblasting left behind a huge mess, and I'm still finding sand in places. The Daewoo install went pretty smoothly. The solar panels I changed out were very large. I had Pete and Diane from EOS come out for a day and help me lift them into place.
Zimmerman kept to a schedule and got all of their projects finished for me on time. This was nice as last year, Port Annapolis did not. Before I knew it, it was splash time, and Trouble was back in the water.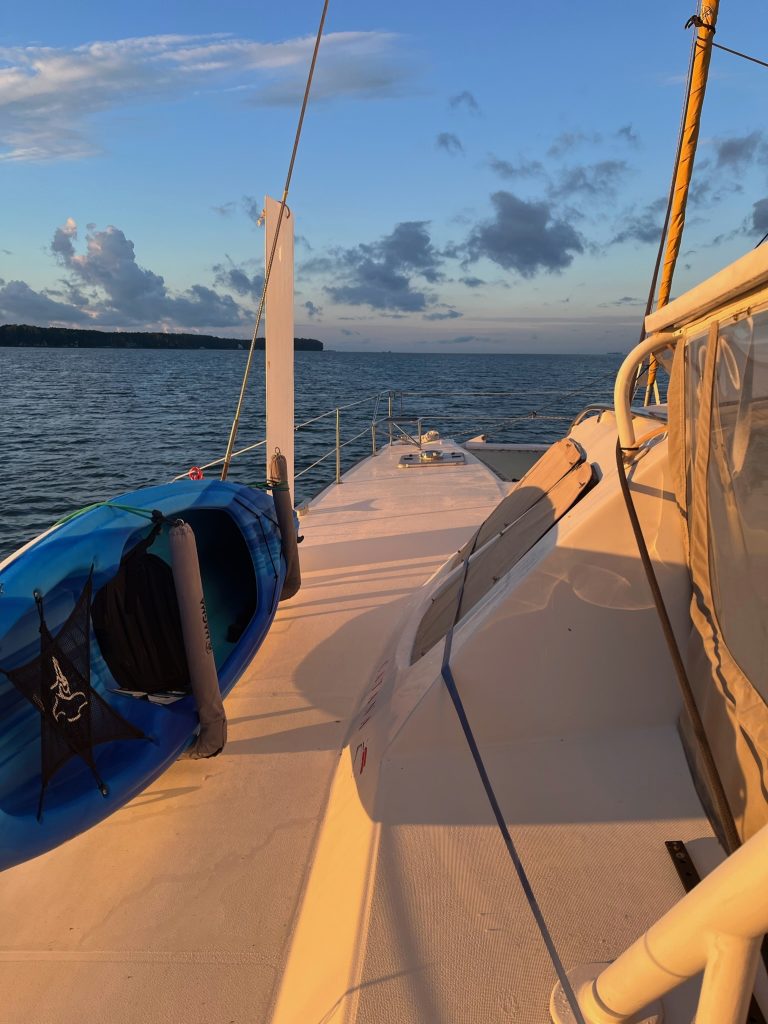 Heading Up The Chesapeake
After Zimmerman, I was heading up to Annapolis. The first day the wind was a bit on the nose so I pulled into Deltaville for a couple of days till the wind switched around.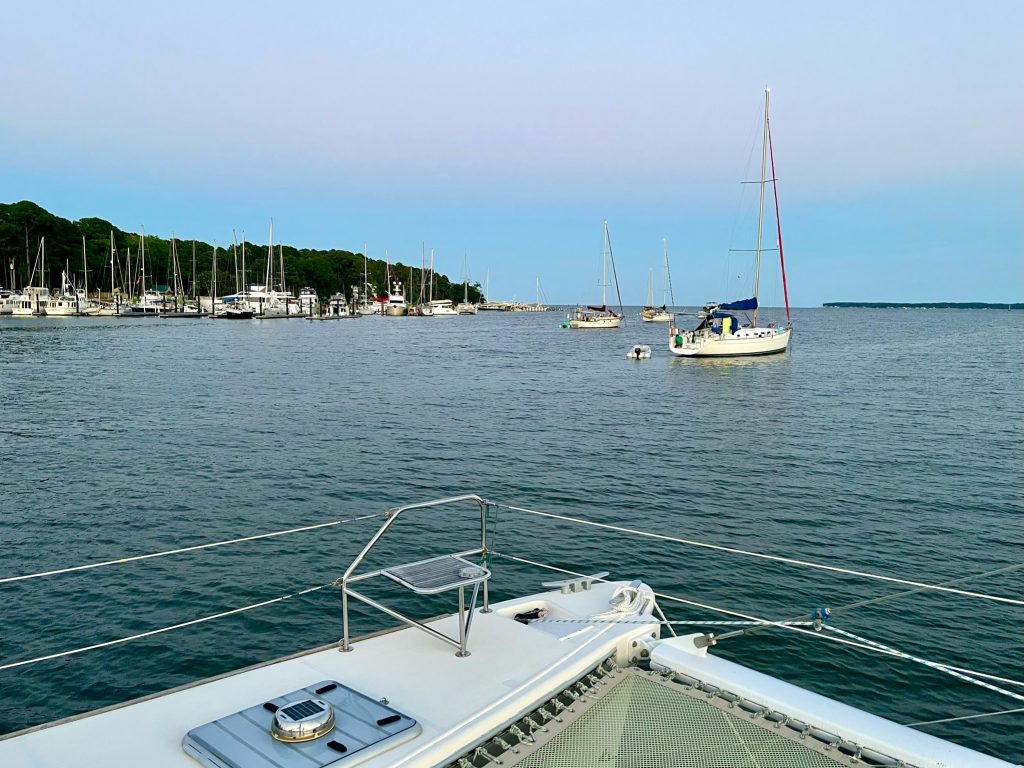 Solomons Island, MD
Annapolis is way up the Chesapeake, so I had to one other stop. Solomons Island is a favorite stop for most sailors. I pulled into Mill Creek and dropped anchor for a very peaceful night.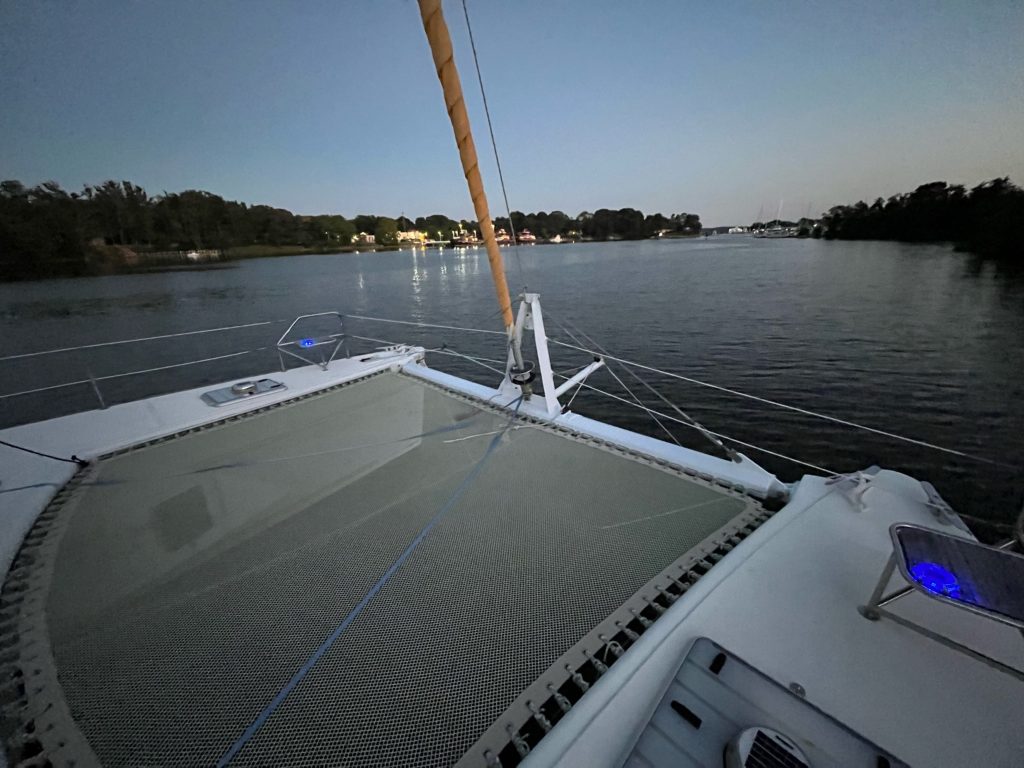 Annapolis — 08•19•22
After an uneventful motor/sail, I picked up a mooring ball in Annapolis. Annapolis is a great town to hang out in.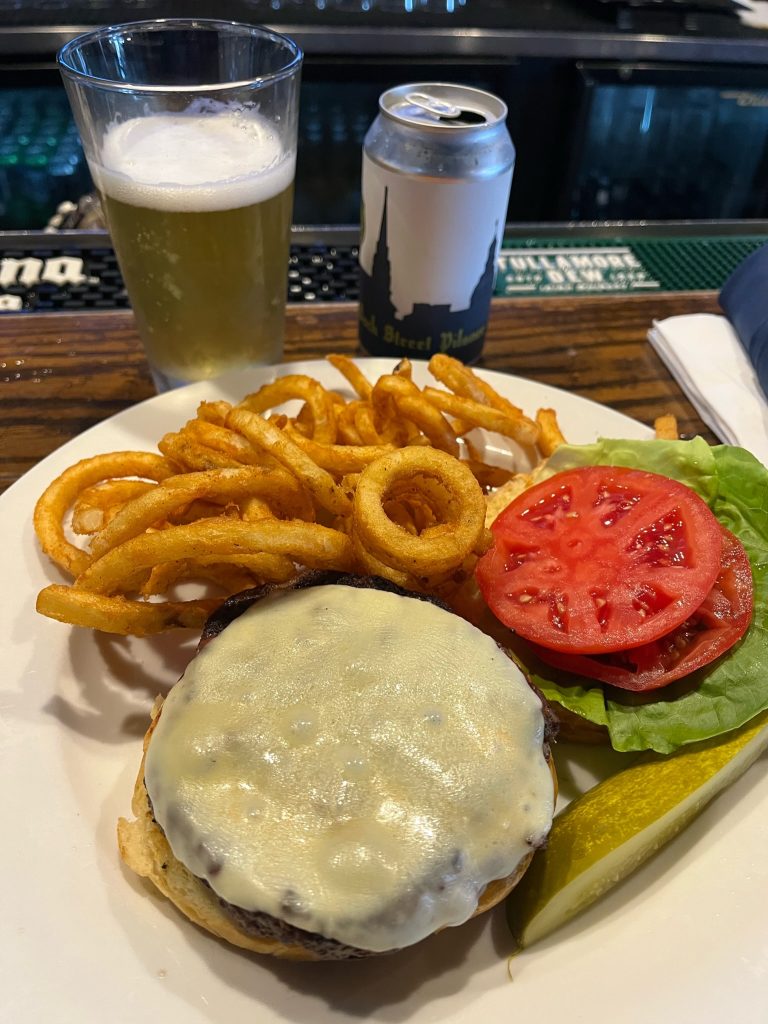 I moved Trouble way back Spa Creek. Spa Creek is very quiet and away from the hustle and bustle of Annapolis, but still easy access by dinghy.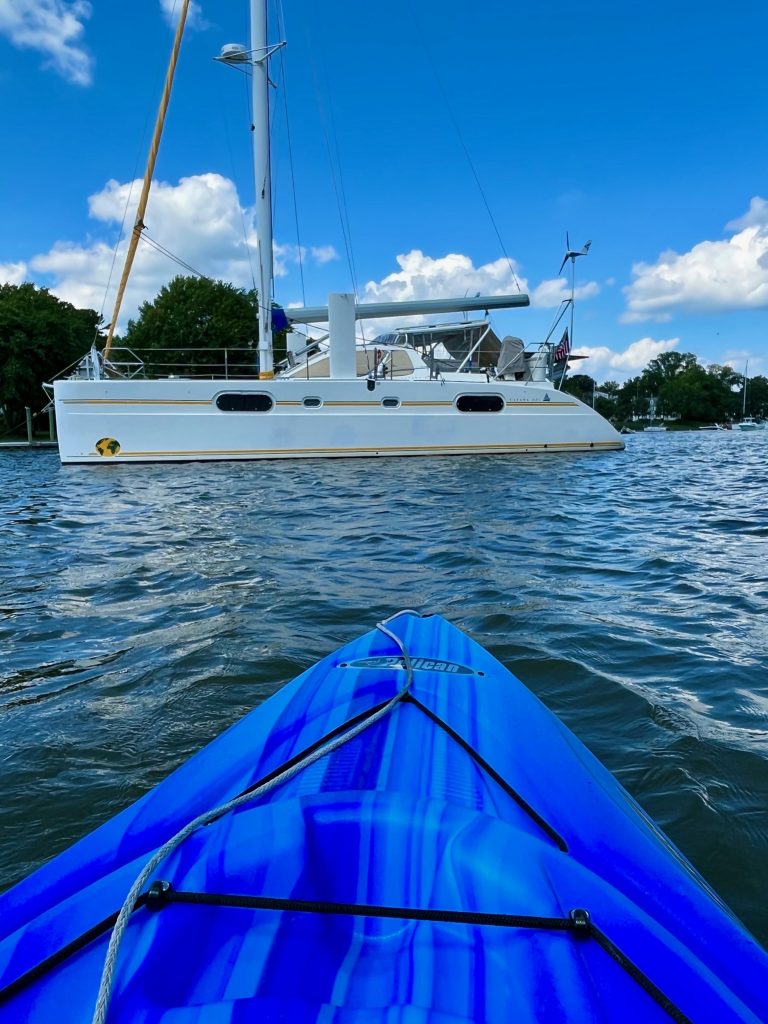 I had a new toy (Kayak) to bide my time in Spa Creek.
Meet Up With EOS — 09•13•22
I took a short break from Annapolis and met up with Pete Diane on EOS. We met at Rock Hall on the free dock. EOS was a little late as they had to replace their engine water pump impeller underway, as it seemed to give out just as they were heading into Rock Hall. All good, the next morning we sailed up the Chester River to Chestertown.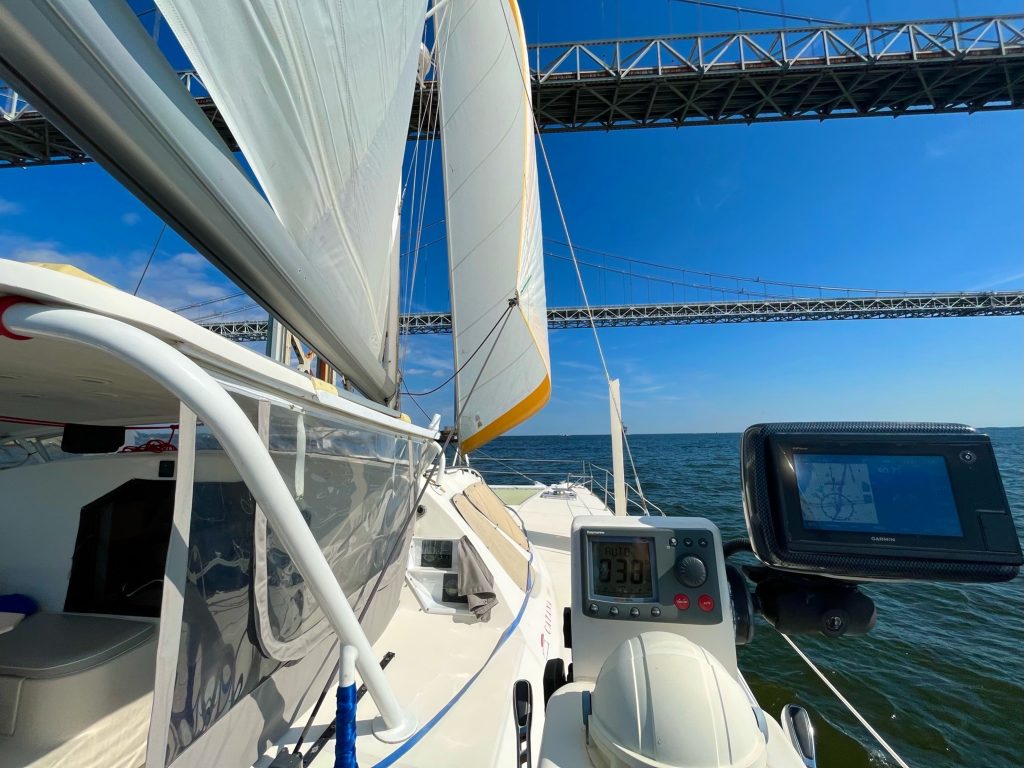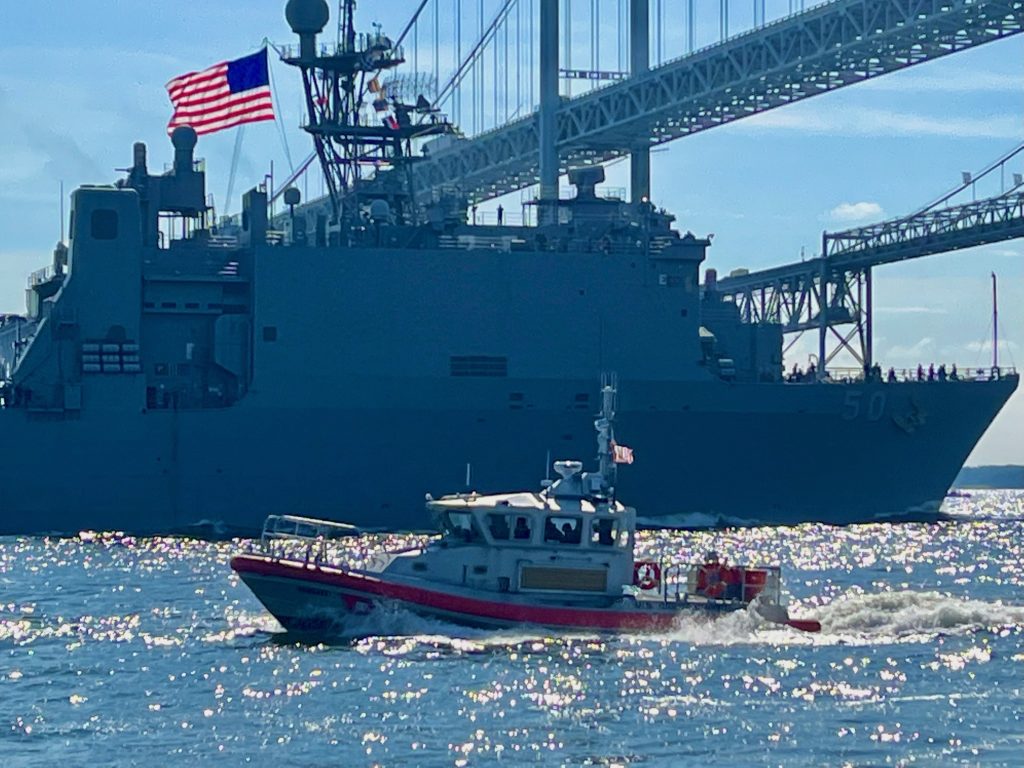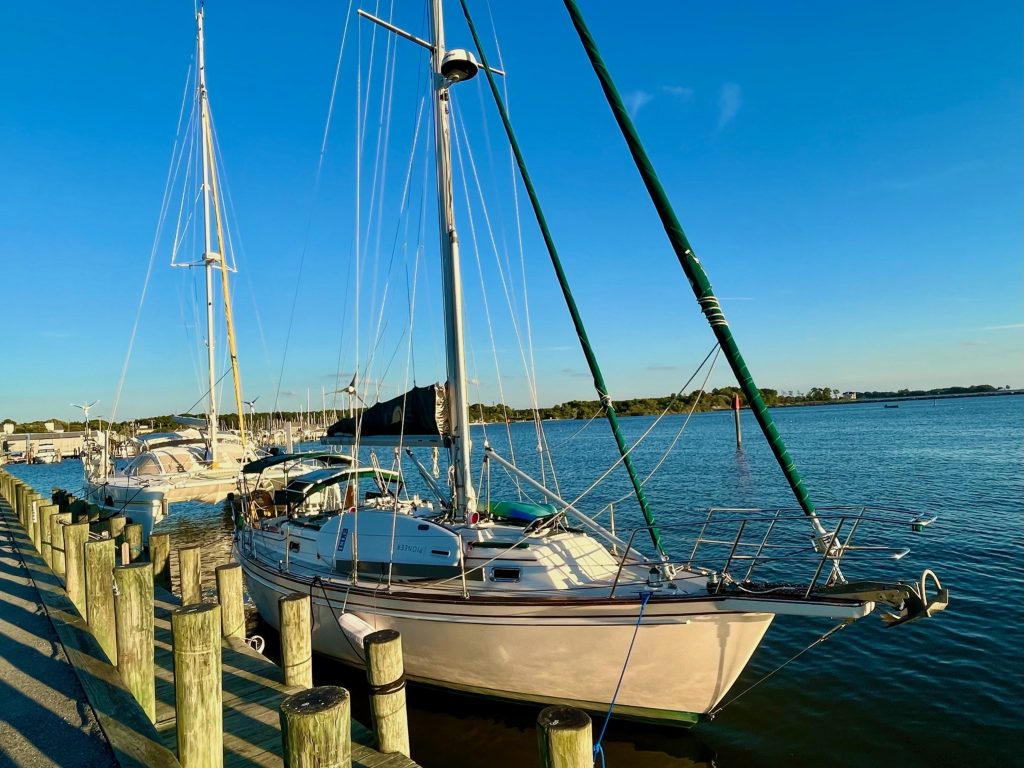 As we had a slow lazy sail up the Chester river we bided our time by taking photos of each other's boats.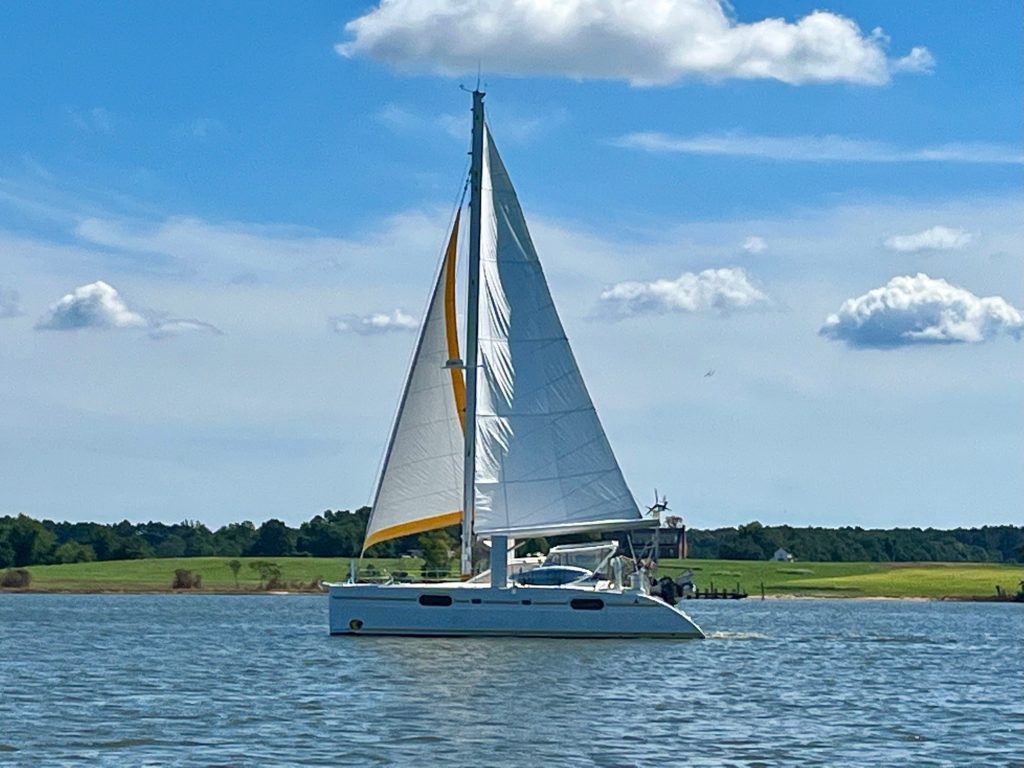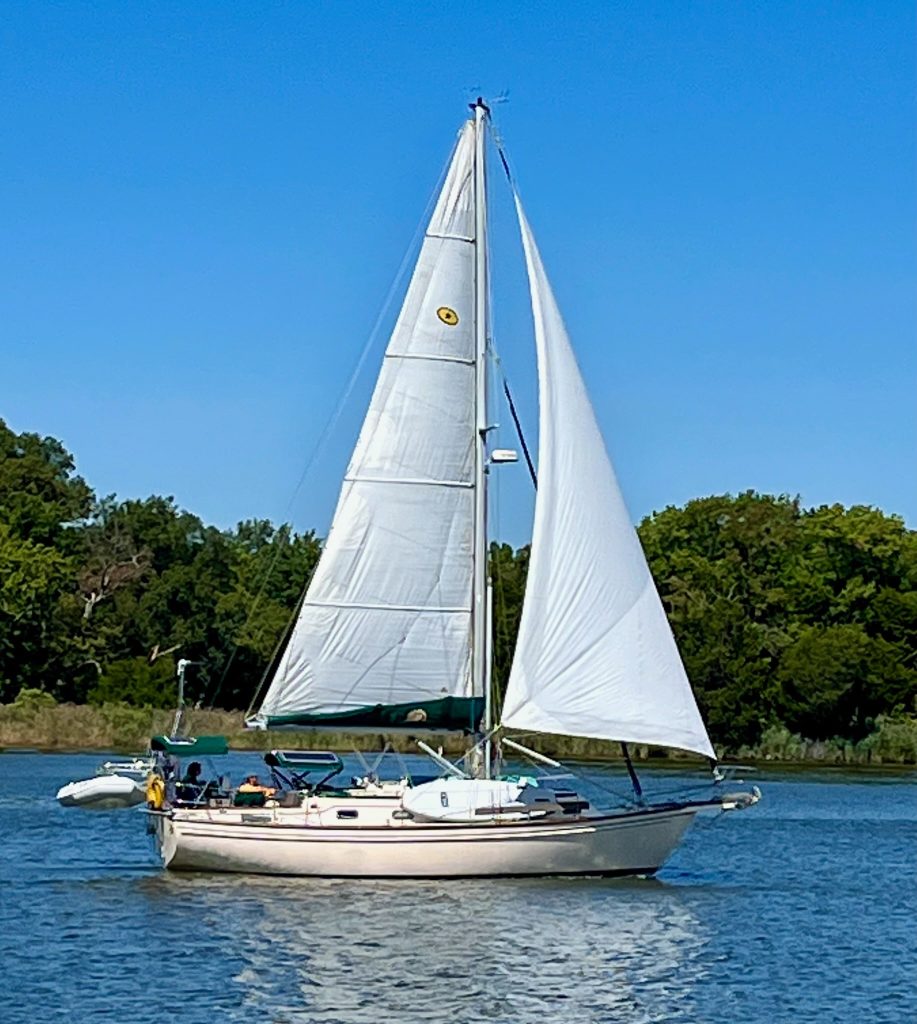 After a fun trip with EOS and crew, I had to head back to Annapolis as the Rigger need to do measurements for all new standing rigging for Trouble.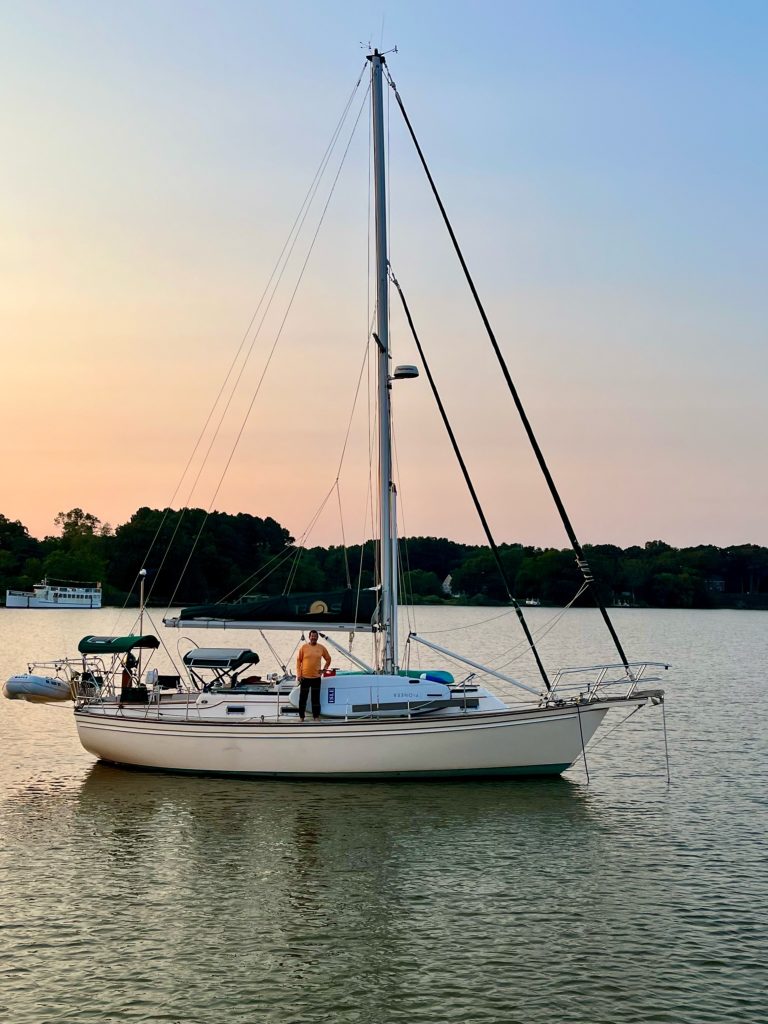 The next time EOS and Trouble will be together is in the Bahamas, in 2023!
Rigger — 09•16•22
C.L Rigging came out and measured Trouble and placed the order for all the standing rigging, including diamond rod rigging and new Harken Furler.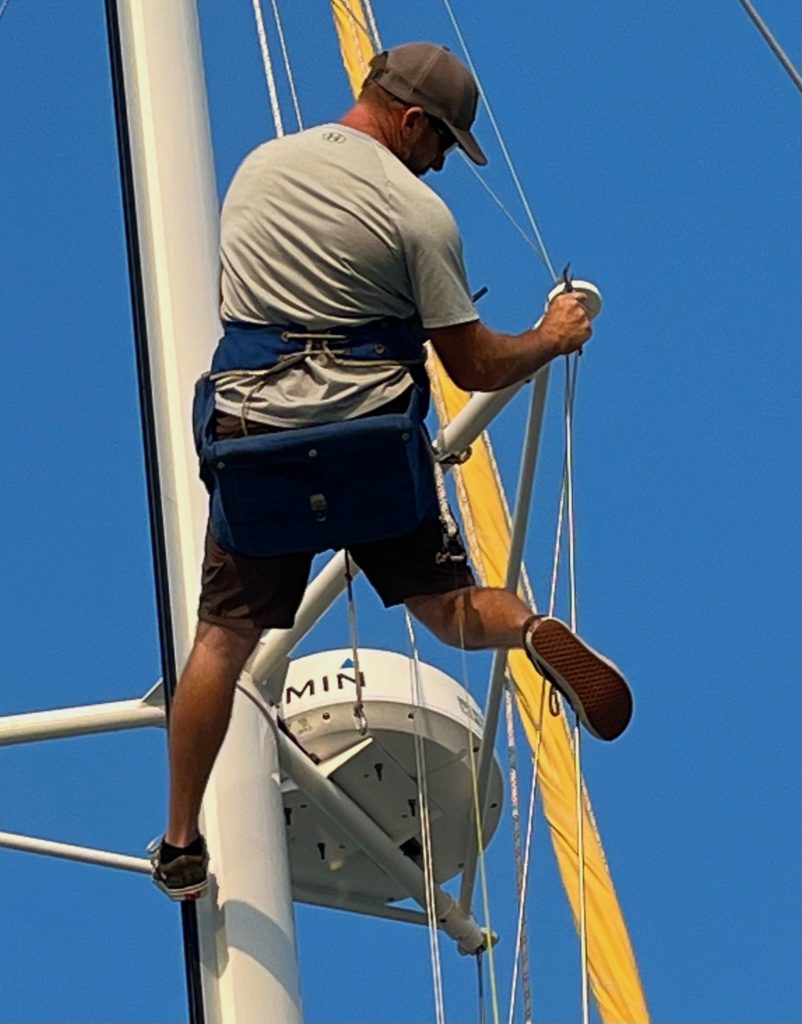 After measuring and ordering I had next get the mast pulled. But I did have a bit of downtime and had a few dinners with old cruising friends.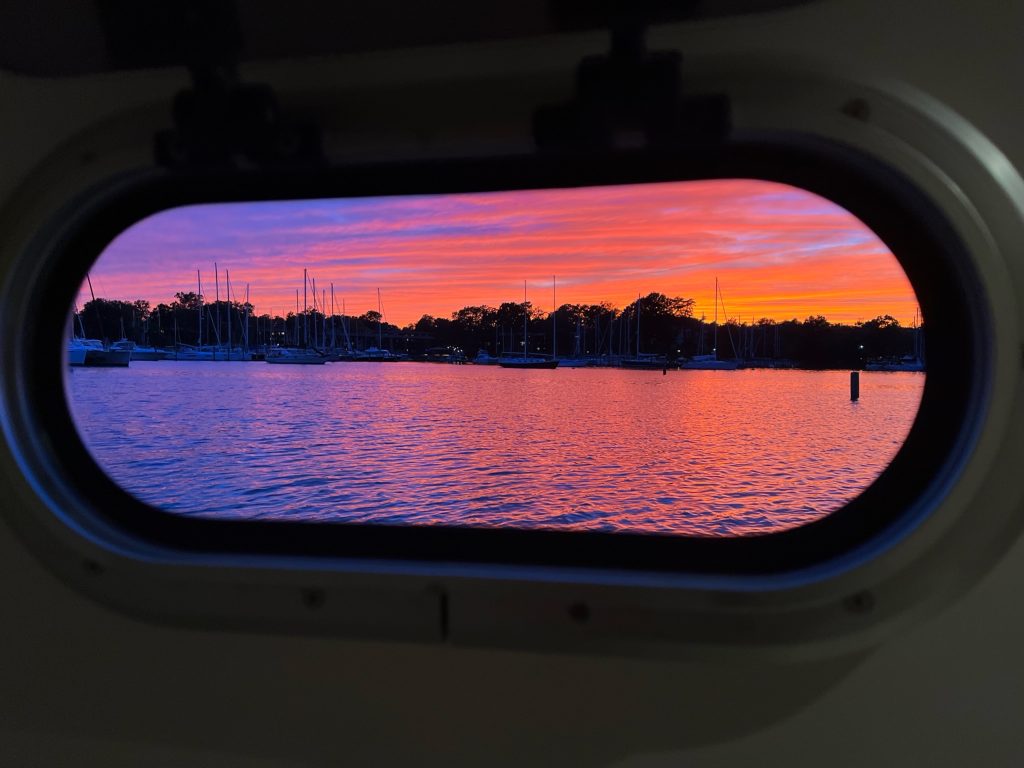 Finally, I was able to get in and get the mast off. It was a ballet of timing of weather, riggers, time, and when the yard can pull the mast. It all came together and Trouble had her mast pulled.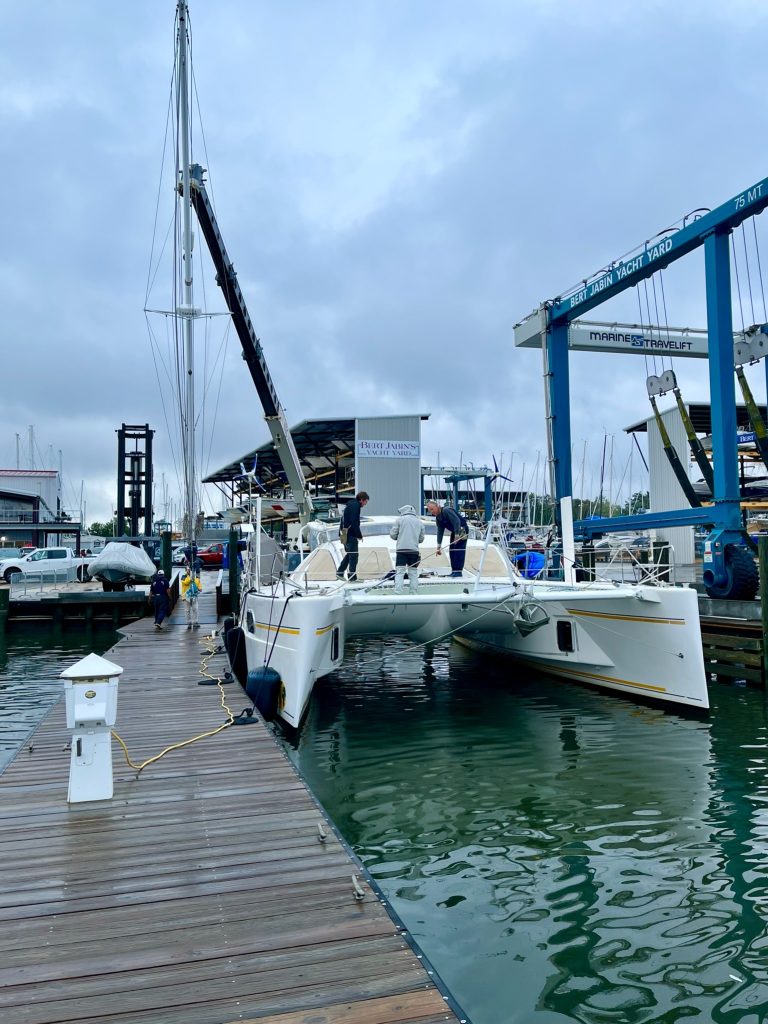 While Trouble was getting her new rigging I helped out fellow cruisers who had their mast off also. They were having their mast put back on, and it was good to see the process.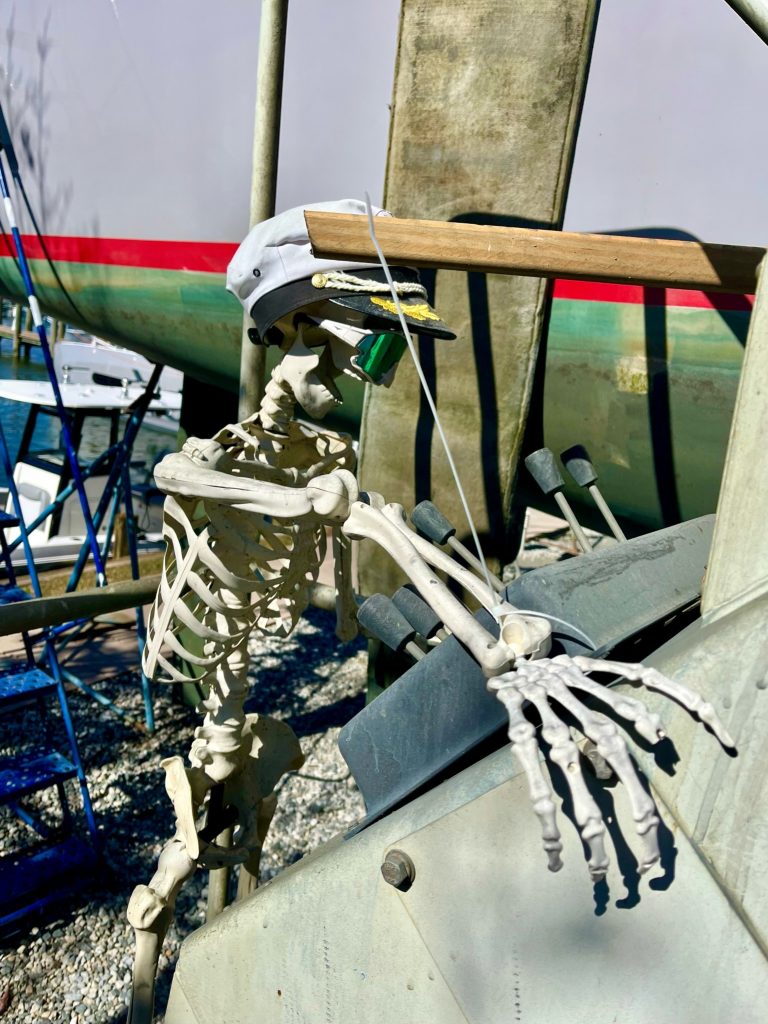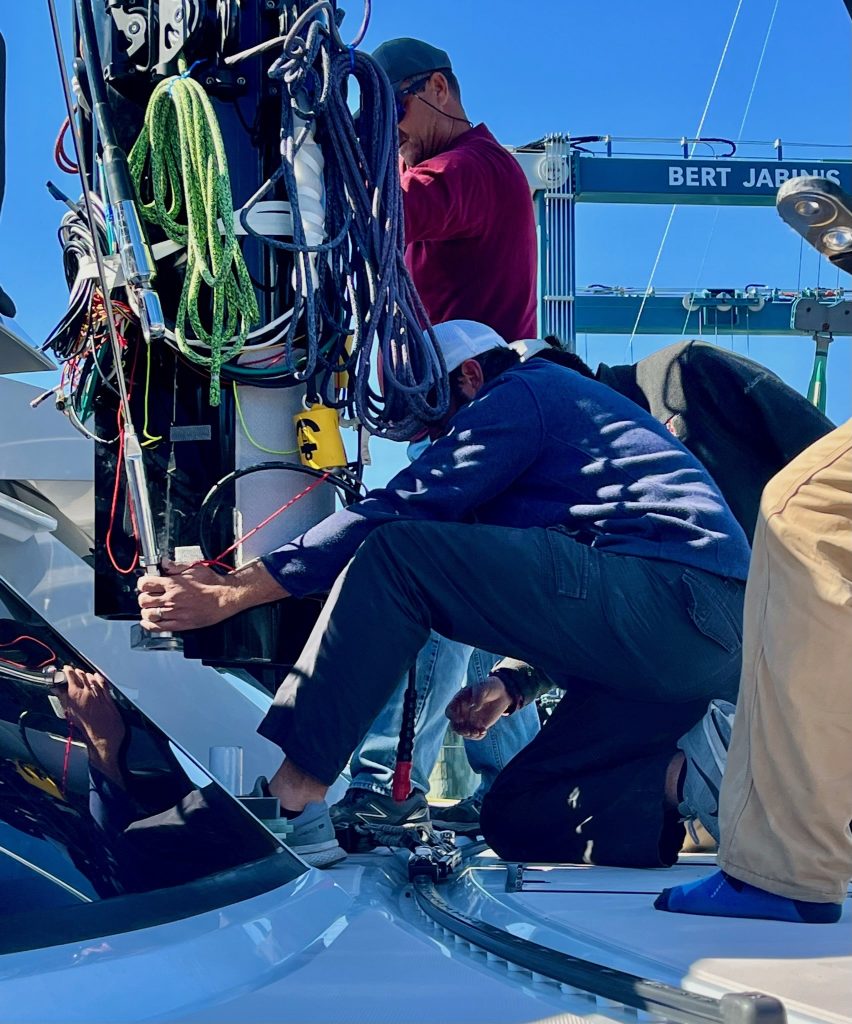 The day comes that Trouble gets her mast back. Trouble and I feel whole again. The days are getting shorter and colder. I need to start heading south.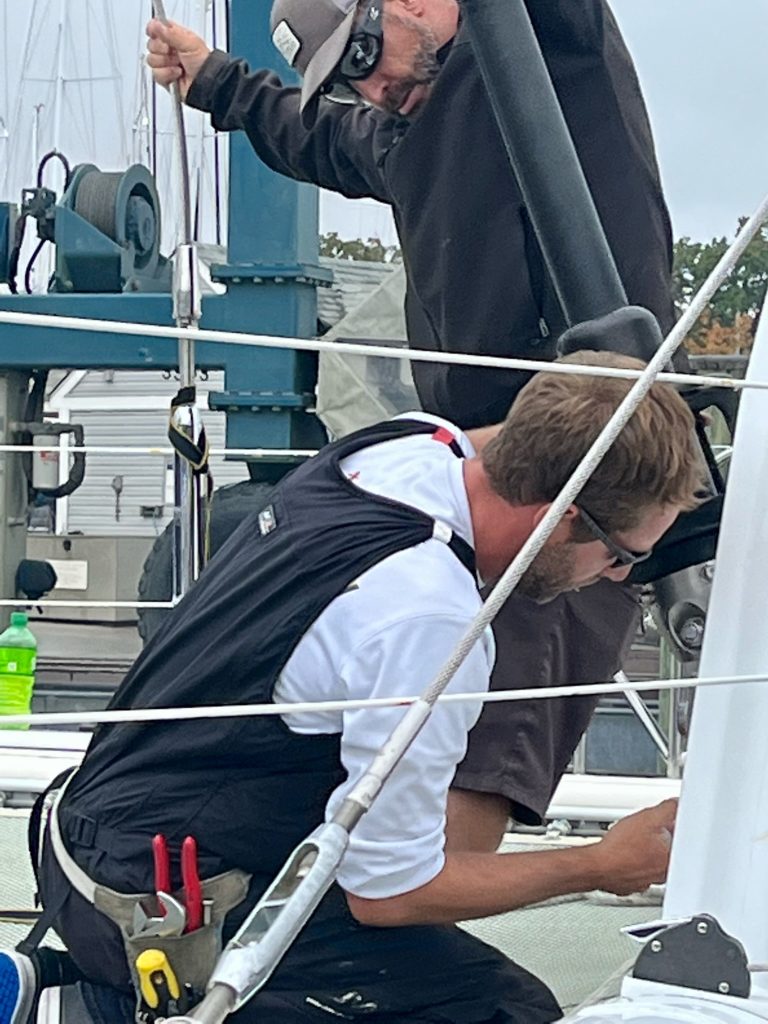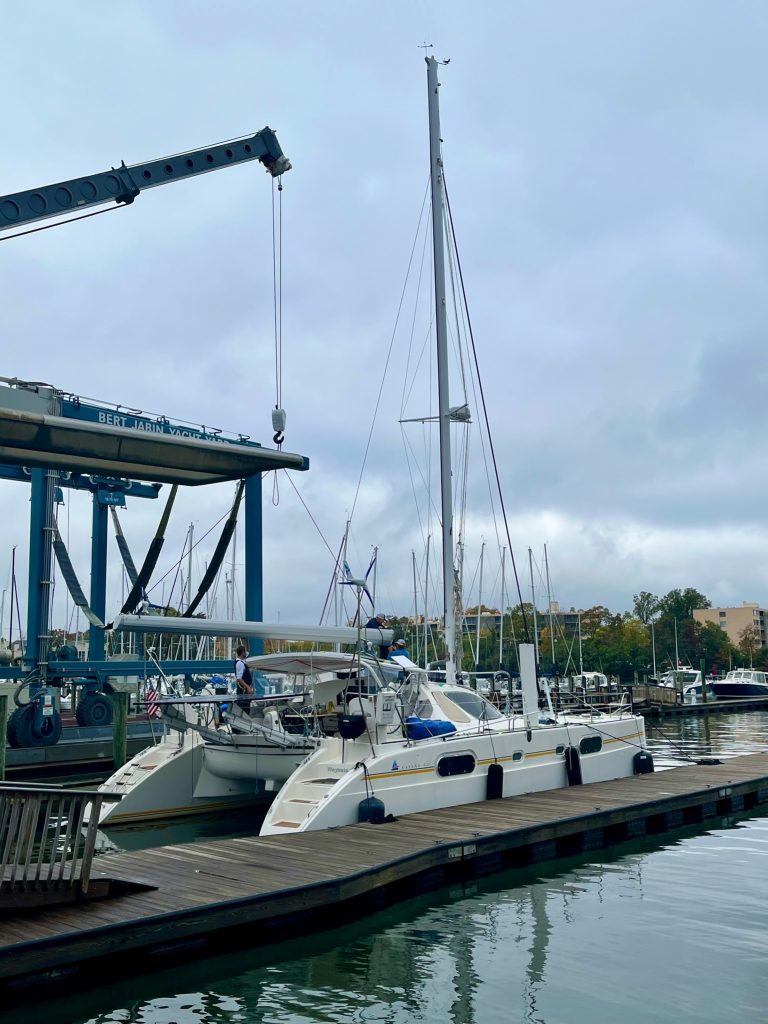 It always seems to be crappy days when I pulled and put the mast back on.
I'd like to thank C.L. Rigging for doing a great job and sticking to my tight time schedule. It's not often in the marine business you see that.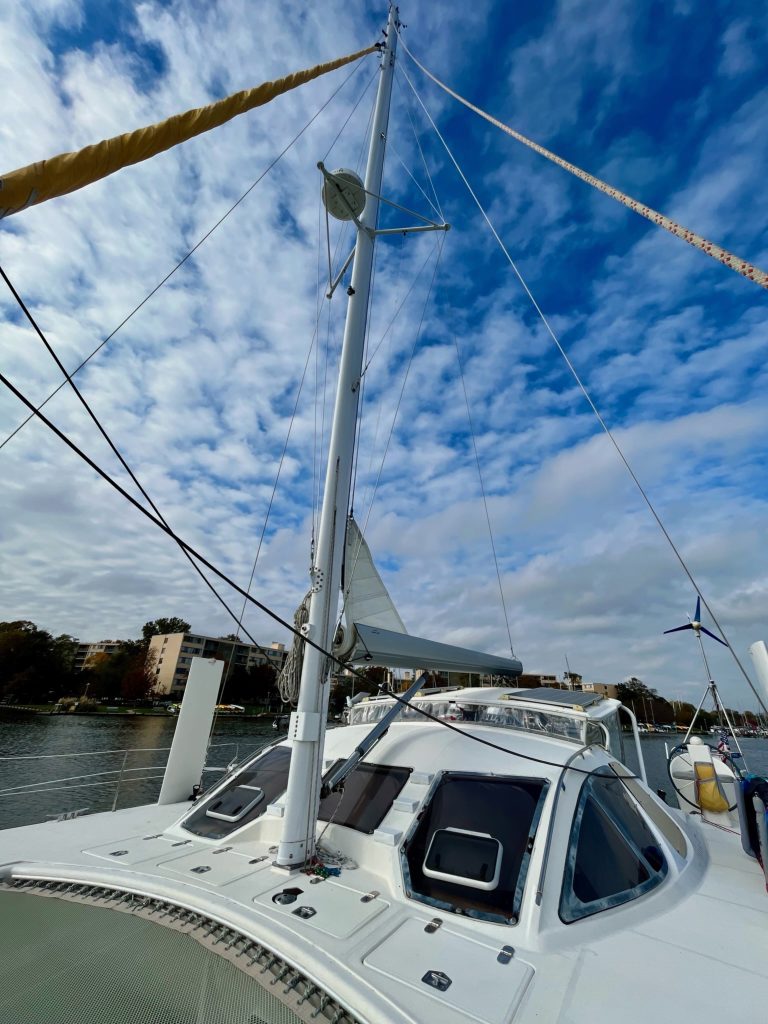 Next, I have crew coming in to head south.