Sand Dollar Beach, Georgetown, Bahamas — 05•01•22
Anchor up at 0700 (7 am) and heading out Conch Cut to Cat Island.
It's time to work my way out of the Bahamas and get back to the USA. Hurricane season starts on June one, and I need to be in the Chesapeake by then. Trouble is being hauled out at Zimmerman Marine, Mobjack Bay near Mathews VA on June 15th for a couple of months, while I do some upgrades and family stuff.
Anchor down in New Bight, Cat Island by 1500 hours (3 pm). It was a fast sail with great wind. I caught a fish but a bigger fish chomped in as I reeled him in. Oh well, it looked like a juvenile Barracuda anyway.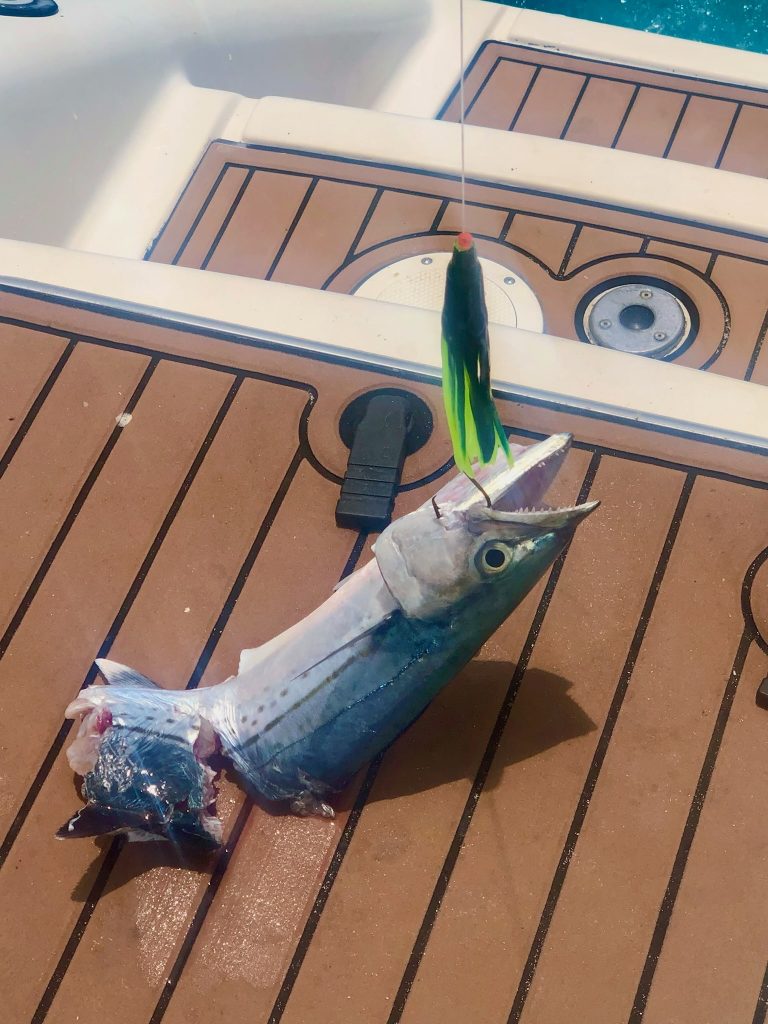 Up Cat Island — 05•02•22
I'm on the move. No time to even get bread at Olives on Cat Island. Anchor up and a perfect sail up to Bennett's Harbour.
I'd never been up to this spot before, and it was a pleasant surprise. Only a few other boats anchored here. I again didn't have time to get ashore and explore, but would definitely come back here again.
Up To Eleuthera — 05•03•22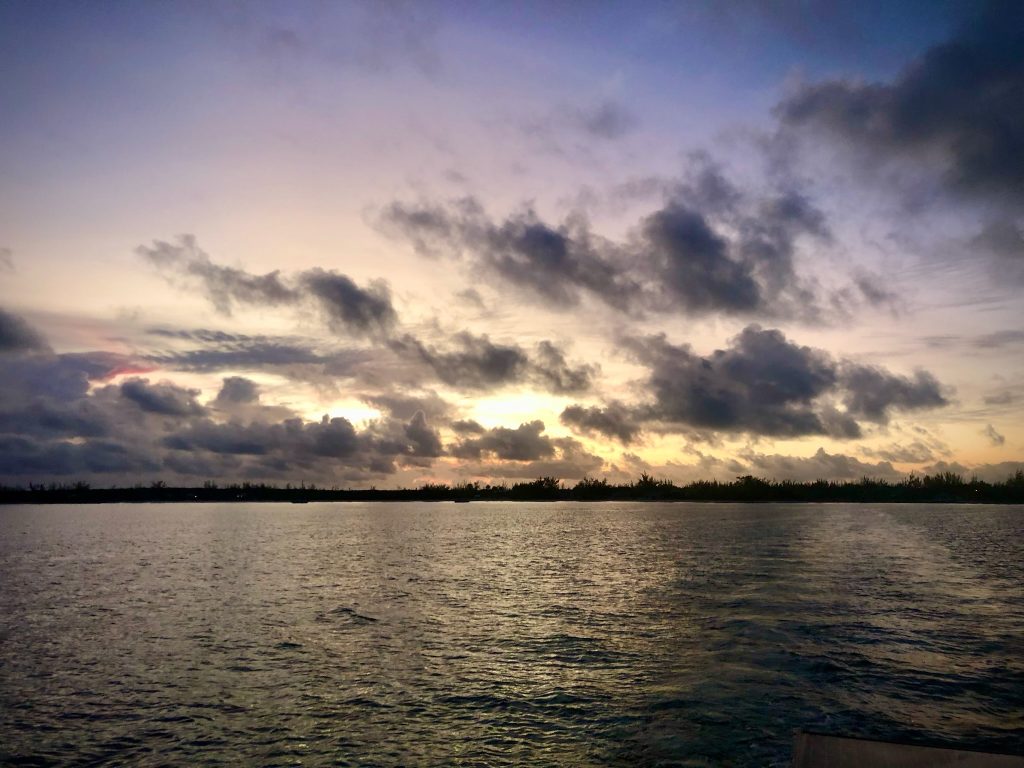 Again I was up early and today headed to Eleuthera. I had to pass Little San Salvador, with is owned by one of the cruise liners. So there would be large ships in my way there. My destination this afternoon is Rock Sound, on the southern tip of Eleuthera. The wind was light, but when it filled in I put my Spinnaker up and gave a show to the tourists on the cruise liner as I sailed past.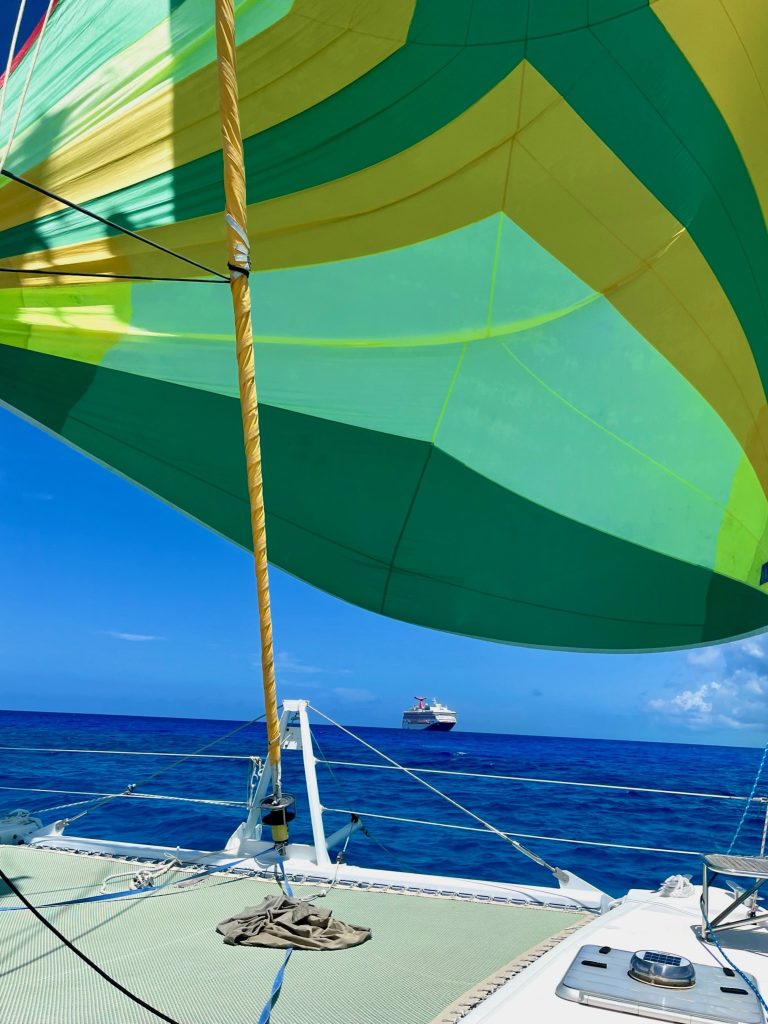 I had the anchor down in Rock Sound at 1720 (5:20 pm). I'd had been here before last season, and wanted to go ashore and explore, but I was too tired. I made an early night of it as I was moving again tomorrow.
Rock Sound Eleuthera — 05•04•22
0655 (6:55 am) Anchor up and underway. It looked like a nice morning after a few heavy rain squalls that came through the anchorage at night. We were supposed to have maybe a few squalls, but it looked nice and I left for Pitman Cove, Eleuthera, which is up north. This would give me a good setup for going through the Notorious Current Cut. But more on that later.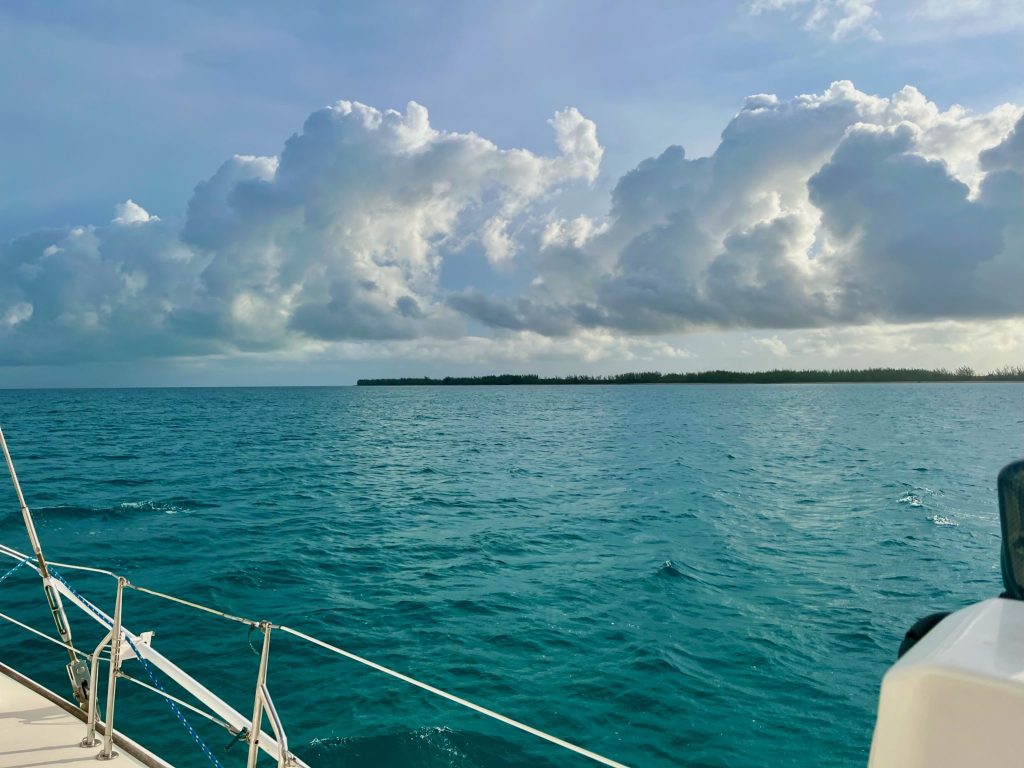 I put the spinnaker a for a bit to mostly dry it out, as it was out during the rain squalls last night. As the morning went on I saw the clouds building behind me. I lowered the spinnaker and stowed it, and was keeping an eye on the squall coming up behind me.
I turned on the boat radar as it can track the squall. The radar showed that it was headed straight for me. I wasn't too worried as a little more wind and maybe some rain would be no big deal. But then the lightning started. Lighting is a big fear as it can wipe out all your electronics. I started getting all the sails down and the engine going. I put a cell phone and a handheld VHF marine radio in the oven. The theory is that the oven acts like a faraday cage and will protect them from a lightning strike.
The wind started to pick up and the radar showed the squall and lightning about 5nm behind me and catching up. The nearest harbor was Governor's Harbour about 10nm away. Luckily Trouble has upgraded larger engines and I decided this is the time to use them. I cranked both engines up and was doing 9 knots towards Governor's Harbour. I was almost outrunning the squall, but it was slowly creeping up on me. About 1nm from the harbor, the squall caught up to Trouble. Pouring rain, lighting, my glasses useless in the rain, I drove Trouble into the harbor at top speed. As I came into the harbor the waves settled down a little. I picked a spot between two other boats with one shot at getting the anchor down.
I spun Trouble into the wind and could make out the people on the other boat watching as it was blowing hard and raining even harder, dropped the anchor, and backed down it, letting out more chain as I usually would. Trouble's anchor grabbed and stuck. After securing the anchor bridal and watching my anchor alarm that I was not dragging., I made grilled cheese and soup for lunch to calm my nerves. Later in the afternoon, the squalls were gone and the sun came out. Wow, not what I had planned for the day, but I'll stay here for the night and figure out my next plans.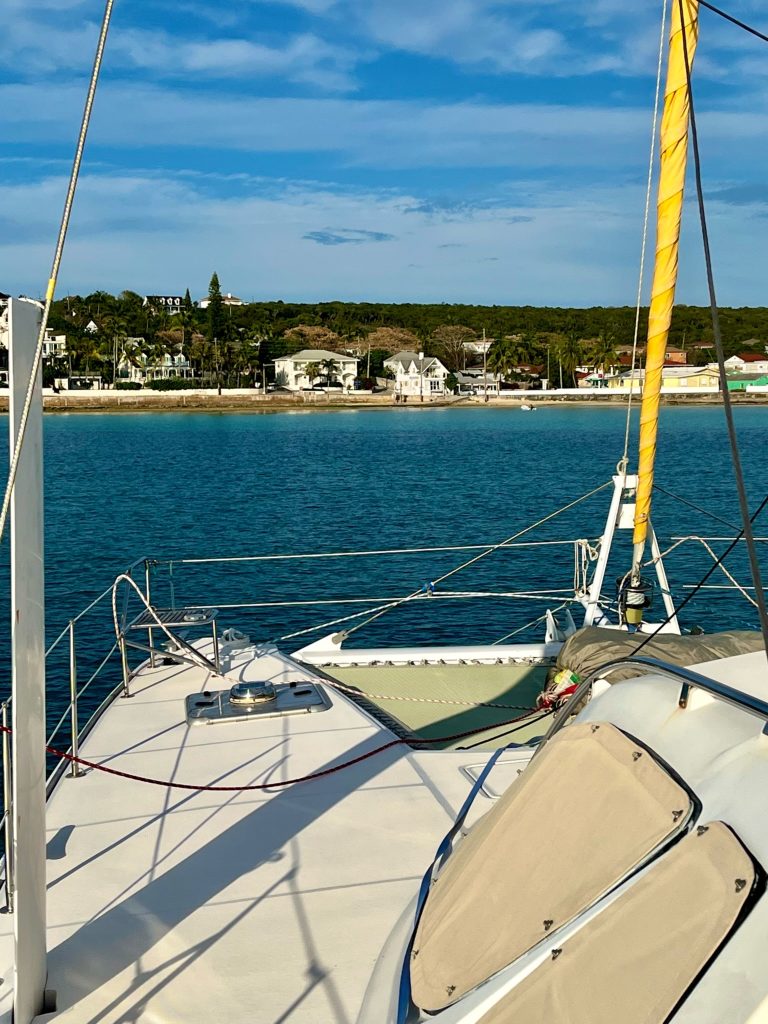 Governor's Harbour, Eleuthera — 05•05•22
0630 (6:30 am) Anchor up and full sails up 5 minutes later. I needed to get to Current Cut at 1230 (12:30 pm). Current Cut is a very narrow cut that needs to be navigated at slack tide, otherwise, the current can be dangerous in the cut.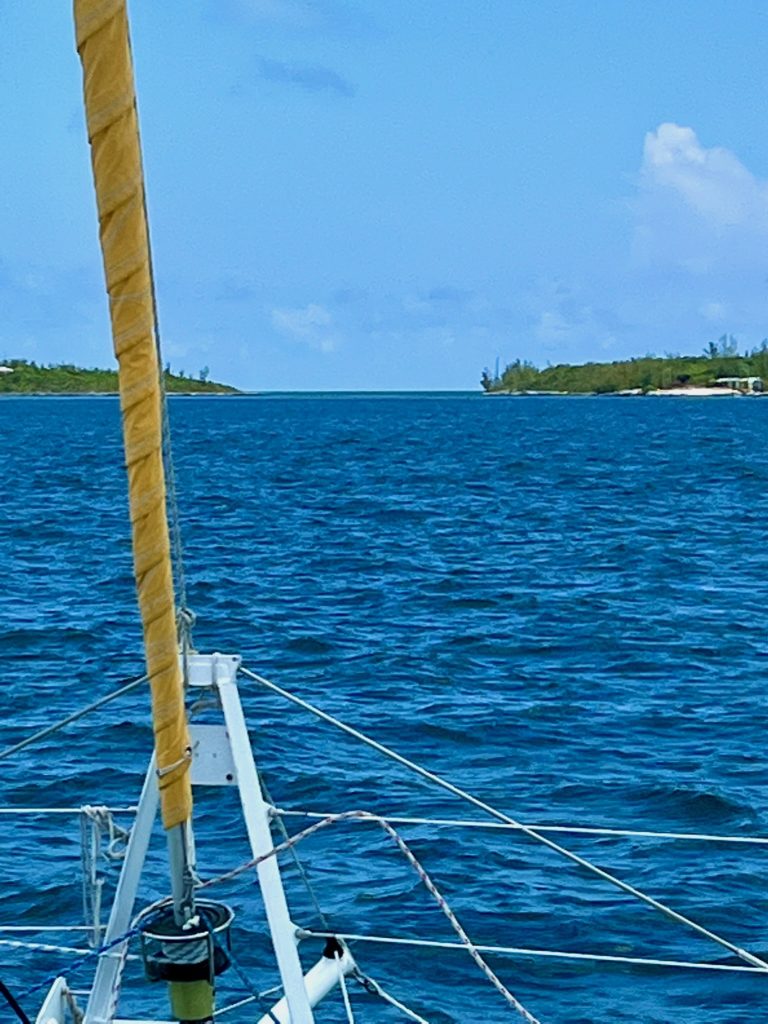 I had a nice sail to Current Cut and got there a little early. I radioed a motor yacht that went through ahead of me, what the cut was like. It sounded good so I headed through. I had no issues, but the current kept wanting to push me into the rocks, I just had to pay attention to what the boat was doing. I transited the cut with no problems and I was radioed by other sailboats behind me about the cut conditions.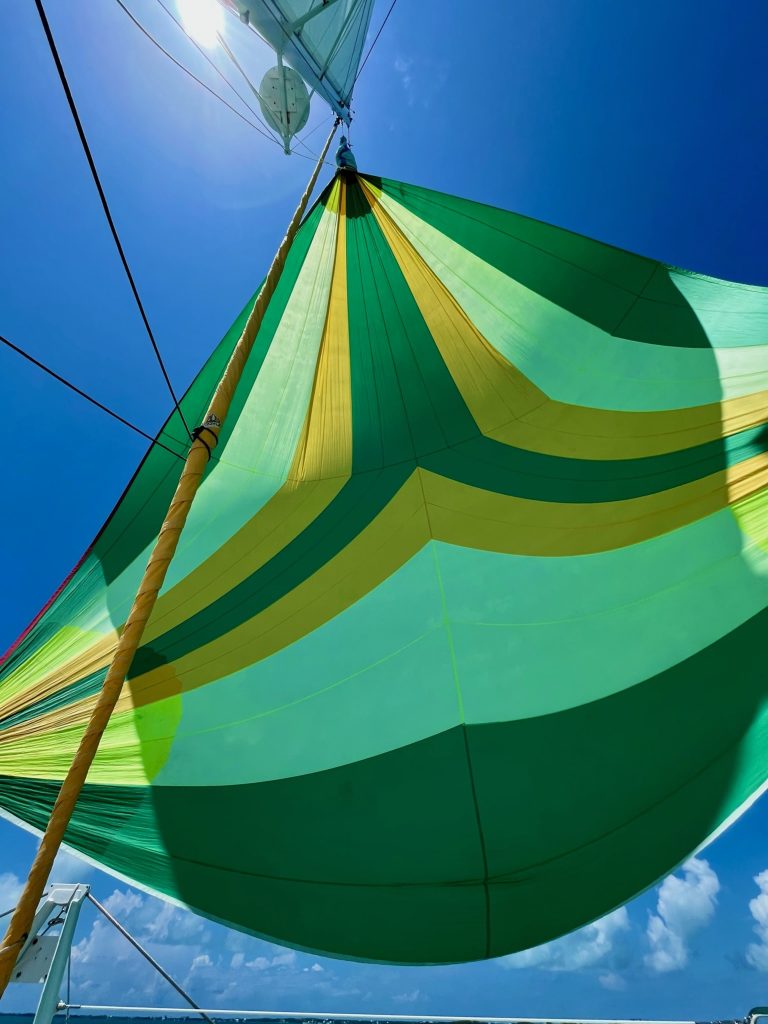 After clearing the cut I had a nice downwind sail into Spanish Wells, which was my destination for the night. I put the spinnaker up and had a great sail into Spanish Wells. I dropped my sails and got my engine going and anchored on the Northside, at a bay called "Gun Point". This would set me up for a straight sail to the Abacos the next day.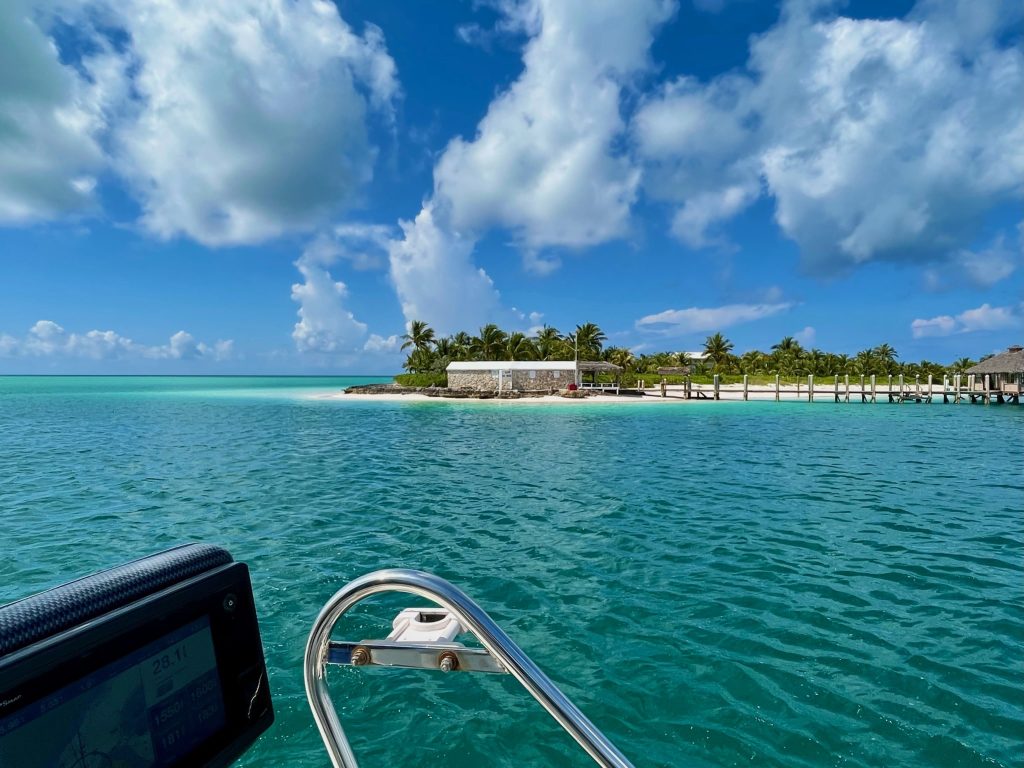 Gun Point – Spanish Wells, Eleuthera — 05•06•22
Today I'd cross the Northeast Providence Channel to the Abacos. I missed the Abacos last season, and I'd thought I'd give it a quick one over leaving the Bahamas.
The wind was light and I motor sailed on and off all day. The passage was rather uneventful. Trouble arrived in the Abacos through the North Bar Channel. Dropping the anchor in what I thought was sand, it dragged on the bottom with what sounded like fingernails on a chalkboard. I tried another spot a half-mile away and got the same bad holding. Moving Trouble to a place a few miles away called Pelican Point, I tried anchoring again. I got the anchor down but I was not real happy with how it felt. It was too late in the day to jump in and check the anchor as it was shark feeding time. I just put out more chain and hoped for the best. The wind was going to pick up in the morning and if needed I'd move then.
Pelican Point, Abacos — 05•07•22
The next morning the wind piped up and Trouble seemed to be holding but I didn't feel good about it. The wind was a west wind which made finding a good anchorage difficult.
Around 1300 (1 pm) Trouble started to drag. That's it I'm out of here. It was blowing pretty good and I decided to move north 5nm and try to anchor on the east shore to block all this rare west wind. I saw on the AIS "Scenic Route", another Catana I'd had met last season in St Augustine. I figured I'd head over there and call them on the radio to see how the holding was. But before I could call them on the radio, they were calling Trouble on the VHF. They said the holding was good, so I anchored about 800 feet from them in what seemed like sand.
Finding a good spot I dropped the anchor and put out a ton of chain as we were supposed to have strong storms tonight. I dove on the anchor to double-check after having horrible luck with anchoring so far in the Abacos. Everything looked good, with the anchor set nicely in deep sand. I dinghied over to Scenic Route and caught up with Jeff and Jill.
The BIG BLOW — 05•08•22
I had settled in with getting Trouble ready for the night. One thing I've been doing is putting out these "Puck" solar lights on the four corners of the boat. We use an anchor light on top of the mast, but I just feel a little safer with other lights marking the boat.
At 0430 (4:30 am) I could hear and see (lightning) coming in. I could pull up weather radar on my phone and see a large cell coming out way. At about 0500 (5 am) the wind starts to pick up to 30knots which is a pretty good wind. Trouble seemed to be swinging fine and not budging. But then it kept picking up. Oww, I better get up and be ready. Just then the wind went crazy. I heard something clunking down the deck, with the wind howling then my wind generators just let go of their electronic brakes and started to scream like a chainsaw. I was unsure whether I should unbrake them as I was afraid they might be overheating the controller. But I decided I'd worry about that later as the wind was over 60knots by now. Trouble seemed to be holding fine on her anchor. But Wow was it loud and had my heart beating as I was running through my plans if the anchor didn't hold.
As quickly as the wind and storm came up, it came it was gone. By 0530 it was calm. I took a flashlight to the mast to see if all my wind interments and antennas were still attached to the mast. All looked good. I went into the engine rooms to check on the wind generator controllers and they seemed fine except the electronic brake was toast. Tieing the wind generator blades down would have to do for now. I then noticed that the "Puck" lights I put out were gone. That must have been what I heard as they became airborne and skidded across the deck into the ocean. Oh well, two casualties to the biggest winds I've seen on Trouble, I won't complain.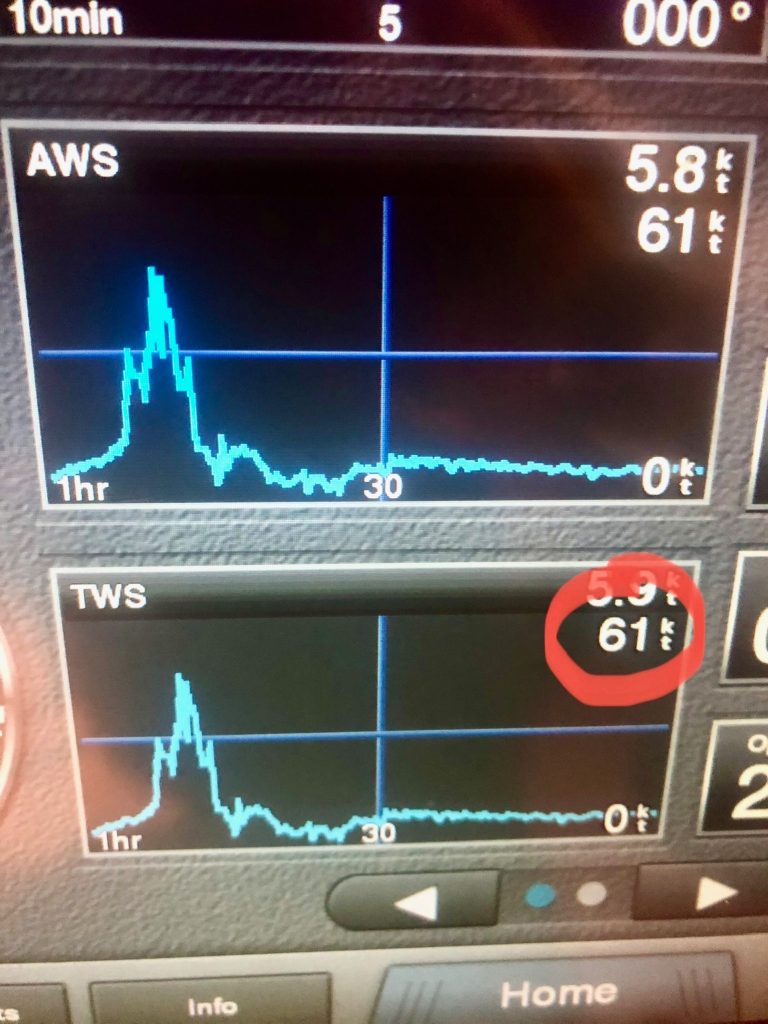 It was still dark but the sun would be coming up soon. I pulled out my binoculars and scanned the area to make sure the other boats were OK. Everything seemed fine, but then I saw faintly way off my stern two small lights about a half-mile away. NO WAY could those be my "Puck" lights, could they? It was calm and I decided no man left behind! I lowered the dinghy and motored out to the lights, and sure enough, my "Puck" lights, which were blown off the deck in 60 knots of wind, were floating, and still only 30 feet from each other. I collected them and headed back to Trouble.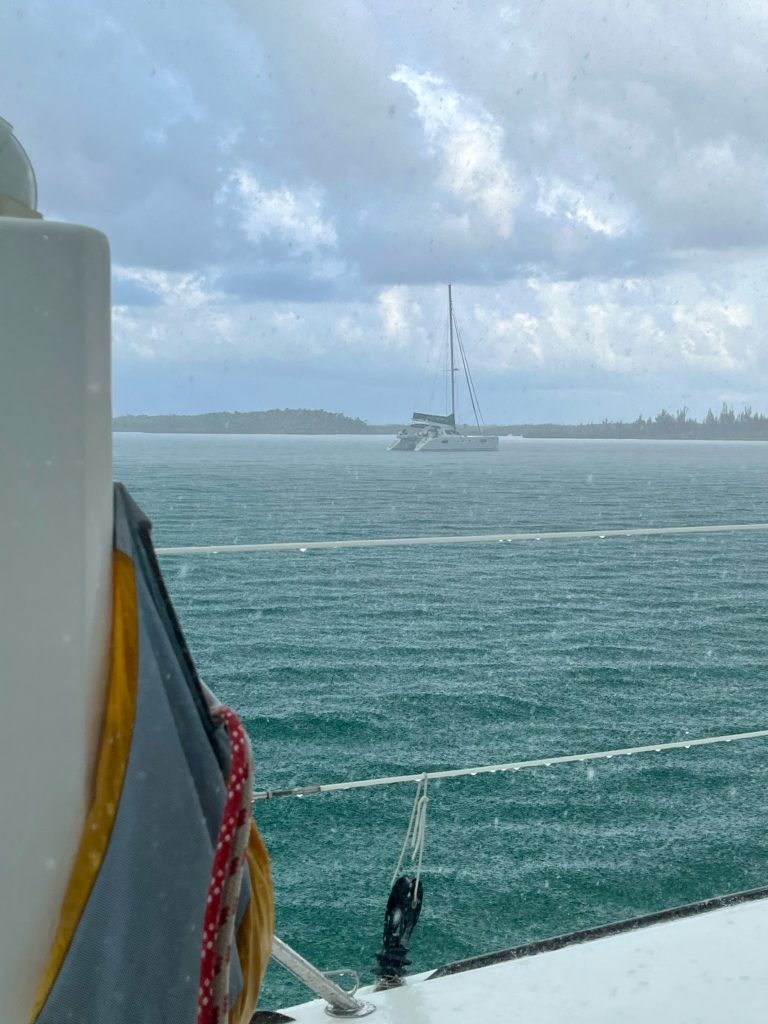 I talked to Scenic Route after a morning downpour, to see how they faired and asked about other areas in the Abacos. I was headed North after lunch and said goodbye to them.
Off To Treasure Cove — 05•08•22
After the morning rain squall and going over Scenic Route's knowledge of the Abacos, I headed off. I had about 25nm to cover and arrived at Treasure Cove at 1845 (6:45 pm).
I got the anchor down and made a quick dinner and went to bed.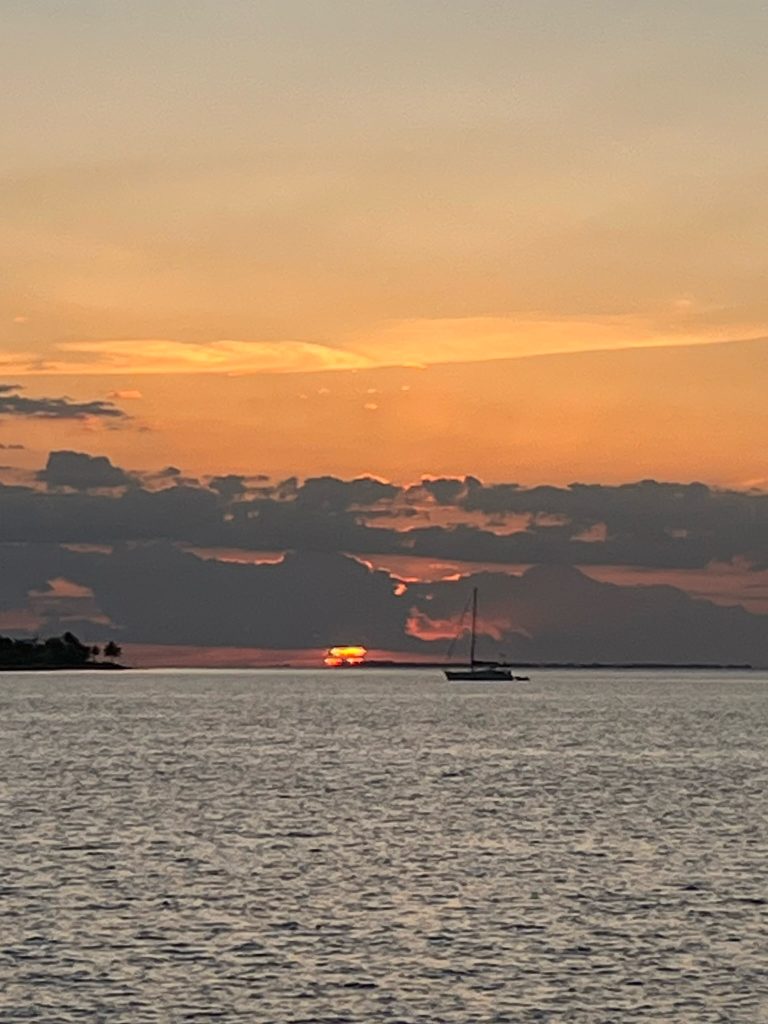 Whale Cay Channel — 05•09•22
This morning I was headed further north to Manjack Cay, just past Green Turtle Cay. This passage has you going out the Whale Cay Channel which is notorious for being rough and dangerous.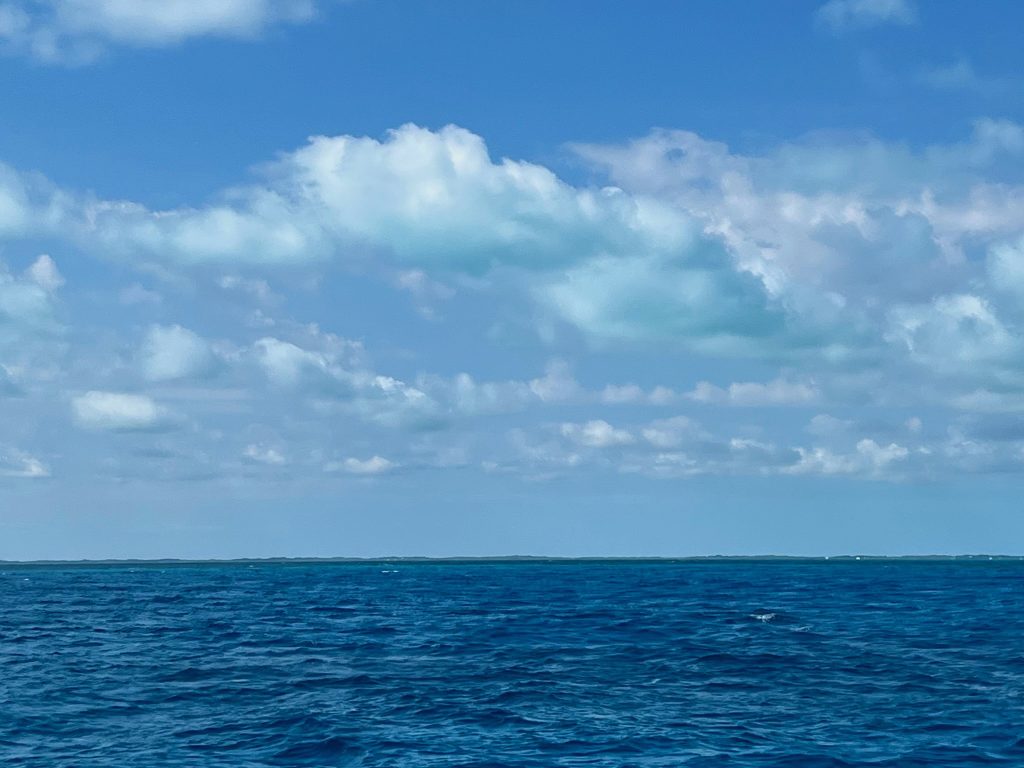 I was thinking of skirting it and going through a shallow water channel called "The Don't Rock" passage. The tides were not in my favor and the wind looked perfect to sail out Whale Cay Channel. So I set sail and it worked out perfectly with no issues. I got called on the radio a couple of times to ask how the channel was. It was a very nice sail up to Manjack Cay. When I dropped the anchor it again dragged. I'm not real thrilled with the Abacos so far. I ended up going further out and anchored in some turtle grass. I dove on the anchor and it seemed fine, but there was a slight roll in the anchorage.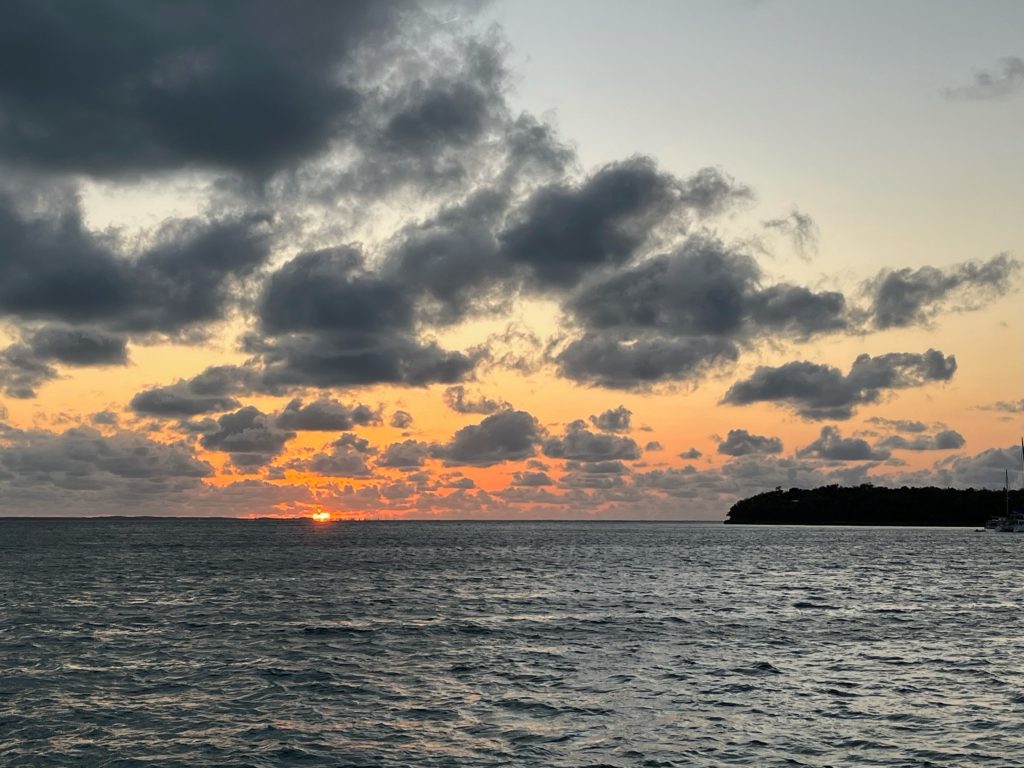 Manjack Cay — 05•10•22
Slow morning as I only had a little ways to go to Green Turtle Cay. I anchored in Joyless Point, Green Turtle. I got the dinghy down and headed into Green Turtle Club and Marina to fill up some jerry jugs of Diesel and to see where I needed to clear customs the next day. After that, I took the dinghy to New Plymouth where the town was and did some looking around and provisioning.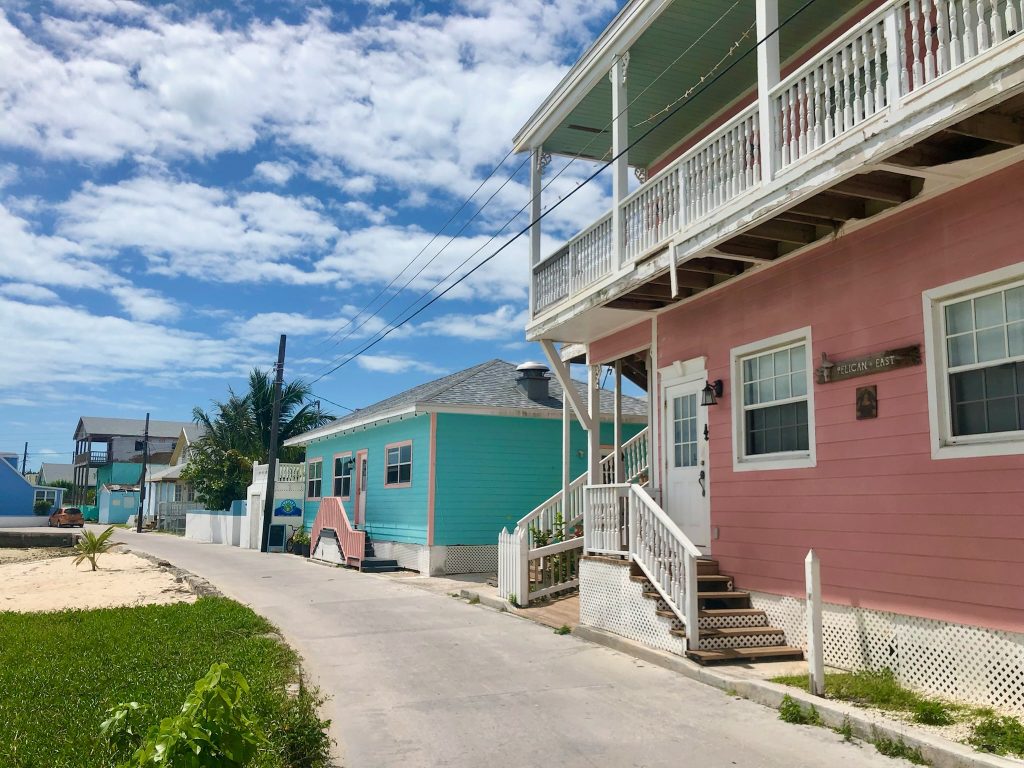 Green Turtle Cay — 05•11•22
I headed to the customs office at 0900 and was done and cleared out of the Bahamas by 0930. I headed back to Trouble and got her ready to get underway. Technically I was not supposed to stop at any islands on the way out, but due to the weather, I was going to. Crossing the Gulfstream in the wrong weather can be treacherous. With a North wind blowing this made the crossing a no-go. I would head to Crab Cay this afternoon.
I had a nice sail to Crab Cay with a few squalls off in the distance.
The anchor was down in Crab Cay, but I really wasn't trusting the anchor so I dove on it and it seemed fine the night.
Crab Cay, Abacos — 05•12•22
Today we were leaving Carb Cay for Great Sale Cay. The anchor came up at 0715. It was a windless day and I motor sailed the whole way.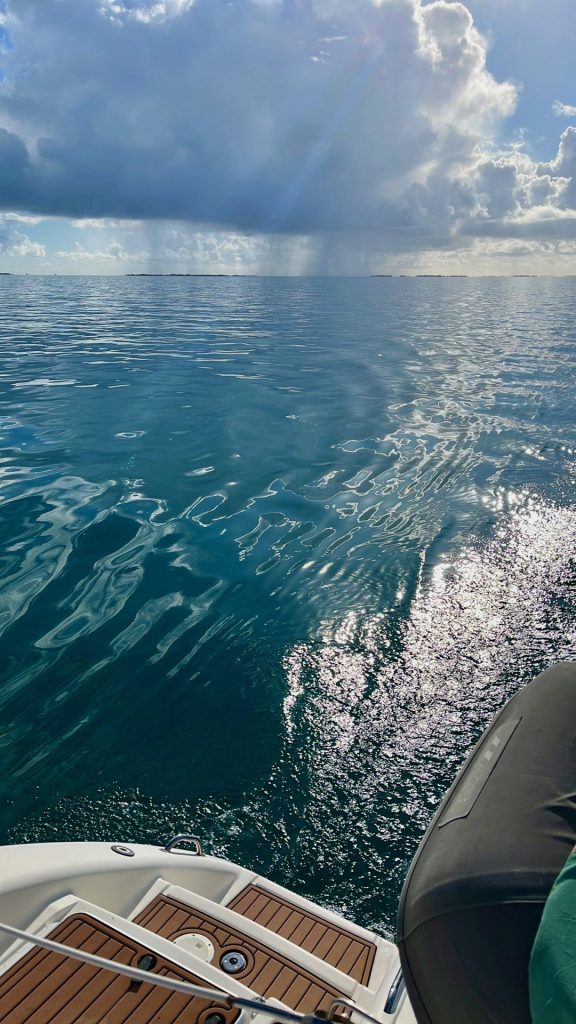 A few squalls popped up but nothing bad. I had dolphins on the bow for just a few seconds.
The day was boring with no wind so I started to look around the boat and found the mainsail mandrel had a few loose screws that were backing out. It was so calm I was able to shimmy out the boom and get the screw tightened up.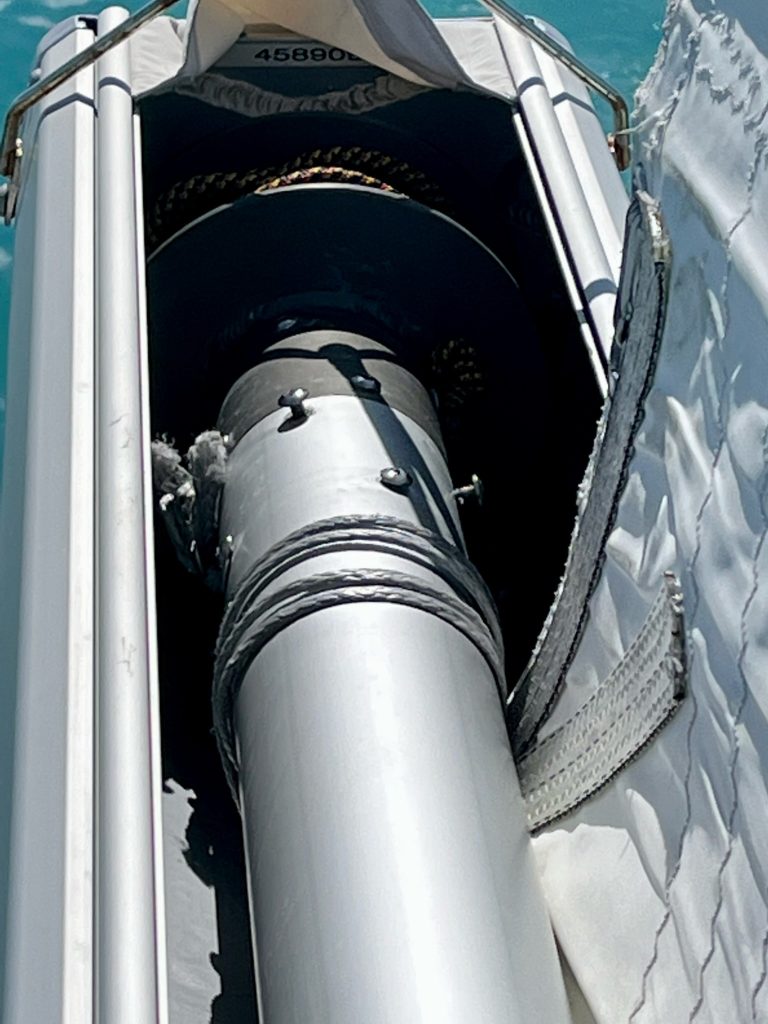 Trouble came into Great Sale Cay and my first anchoring try was a fail and I moved to the other side of the bay and seem to get a better hold in Turtle Grass. I dove on the anchor and it seemed to be set well. The internet was pretty poor, and I needed good weather for my Gulfstream crossing. So I decided the next day to head up to Grand Cay which had a cell tower and stage my crossing from there.
Great Sale Cay, Abacos — 05•13•22
I left Great Sale Cay for Grand Cay in the morning. Trouble was able to sail for a bit but eventually had to motor sail. I ended up again starting the engines and running from a squall coming. Luckily the squall missed me and I was able to anchor in front of Grand Cay which had good cell coverage and internet. Unfortunately, the wind directing made the anchorage pretty rough. After checking the weather forecast I decided that tomorrow would be the day I leave for getting back to the US. I had the last lobster I had in the freezer for dinner which was one of the larger ones I had caught, and save some of the meat for dinner on my passage.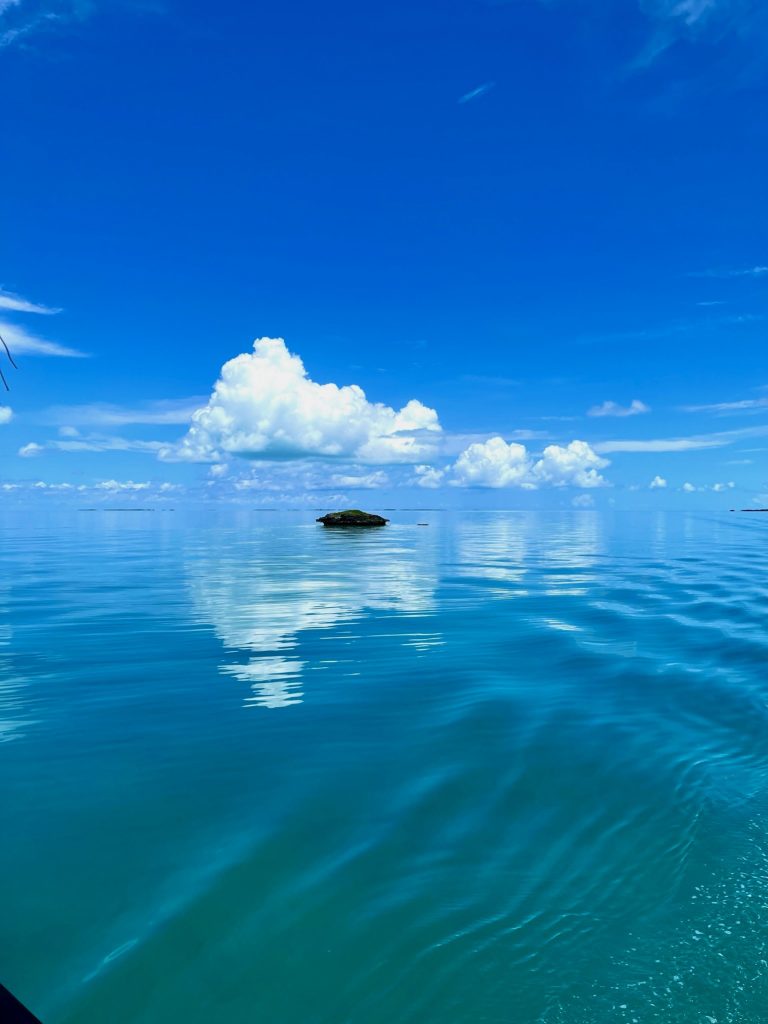 I went over the boat and seemed pretty repaired for the crossing. But I'll leave that adventure for the next post.