Charleston, SC — 11•05•22
My crew had left and I had to decide on what my plan would be for the building weather front. The Charleston Marine Center would be a poor choice to hold out in the coming weather front. Also, I had to be out of my slip right when the worst of the weather would hit Charleston.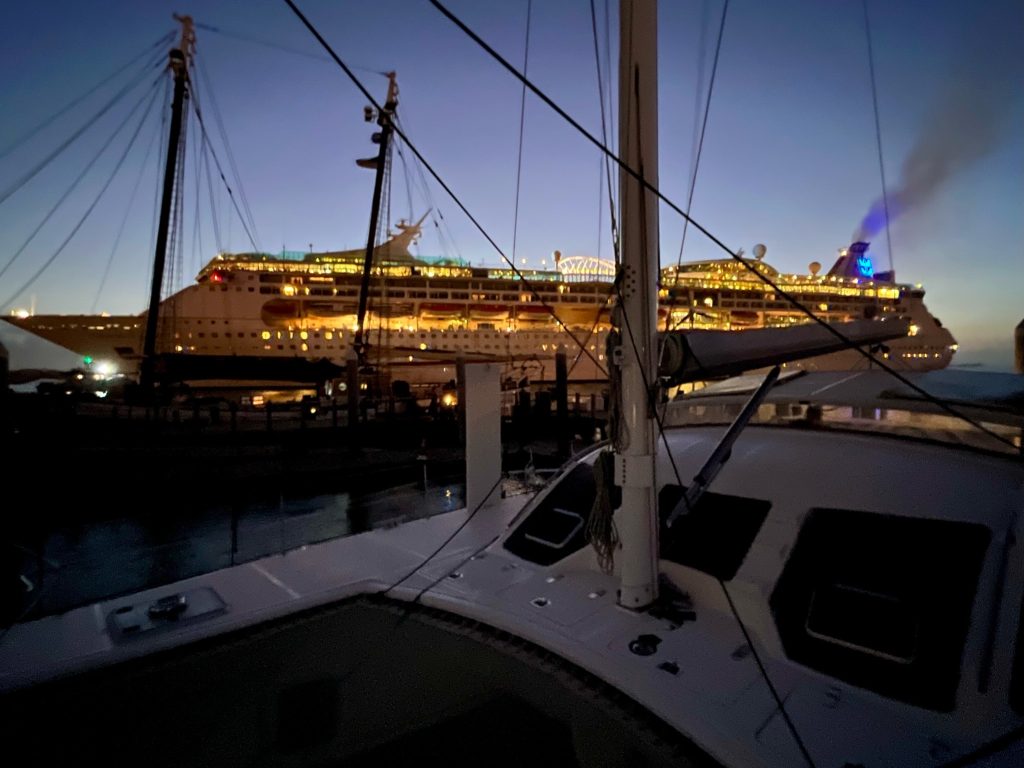 I thought I could make a mad dash to St Augustine and called the city marina to see if I could get in early and weather the blow there. They said they were booked. This turned out to be a godsend!
After messaging Cass on E Sea Ryder, I decided to join her in Beaufort, SC. Beaufort was quite a bit inland up the river. I elected to come in the "Back Way" to bypass a bridge that might be too low for Trouble to get under.
Hurricane Nicole Headed My Way
Navigating the tides and currents in Charleston is not to be taken lightly. I wanted to leave Charleston on the outgoing tide which was early in the morning, so Trouble left the marina a day early and anchored out by the Aircraft carrier, and got I to bed early, for my middle-of-the-night departure.
The alarm went off at 0150 ( 1:50 am ) and I got Trouble underway to Beaufort, SC. I set my clocks for Daylight Savings ending and navigated out of the harbor. After clearing the harbor I got the sails up. I wanted to be in St Helena Sound with an incoming tide so as to not fight the currents too much.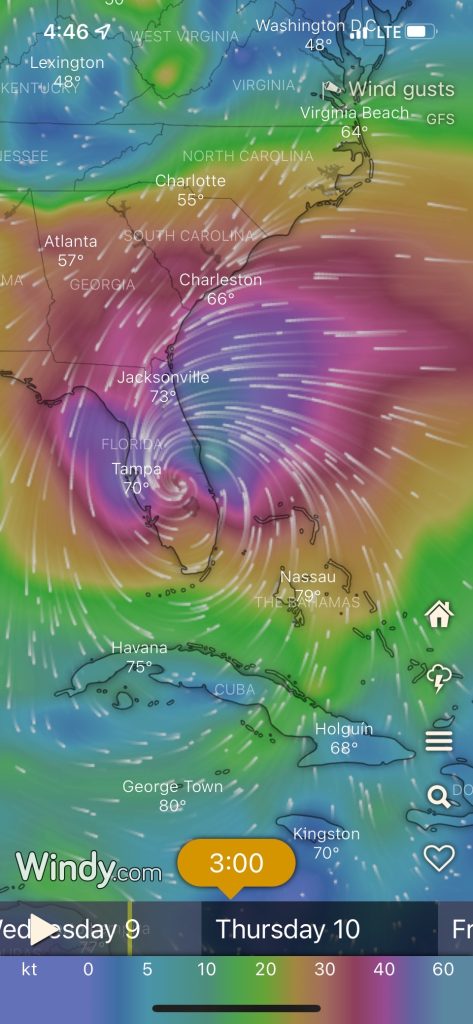 NOAA declare Nicole a Force 1 Hurricane as it hit Florida and then raced up Georga and the Carolinas. This system was huge and even though it was only a Cat 1 Hurricane that was more wind than I wanted to deal with. Being in Beaufort, SC would be a great place to weather the blow. By the time it got that far inland it would diminish into a tropical storm. I had a couple of days before it would get to me.
The trip up the river from St Helena Sound was a long curvey route that I did under power. It was nice to have oversized engines in Trouble as she managed the currents without issue.
Beaufort, SC — 11•07•22
1430 ( 2:30 pm ) I picked up a mooring at the Safe Harbor Beaufort Marina. E Sea Ryder was there and helped me with the mooring. After I got settled and had a nap, I headed over to E Sea Ryder for cocktails. It was a huge relief to be secure for the unknown coming our way.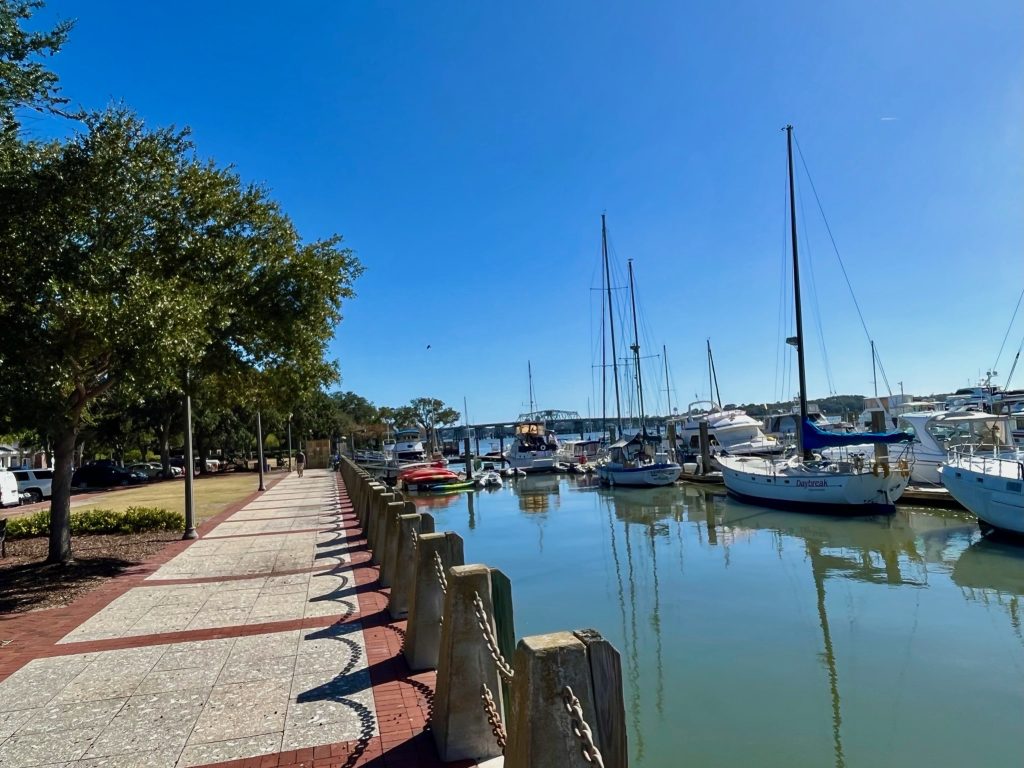 Hurricane Nicole was downgraded to a tropical storm before it got to Beaufort and we saw a little wind and a lot of rain. It was a nonevent but it lasted for a few days. I stayed in Beaufort for almost a week, hanging out with E Sea Ryder.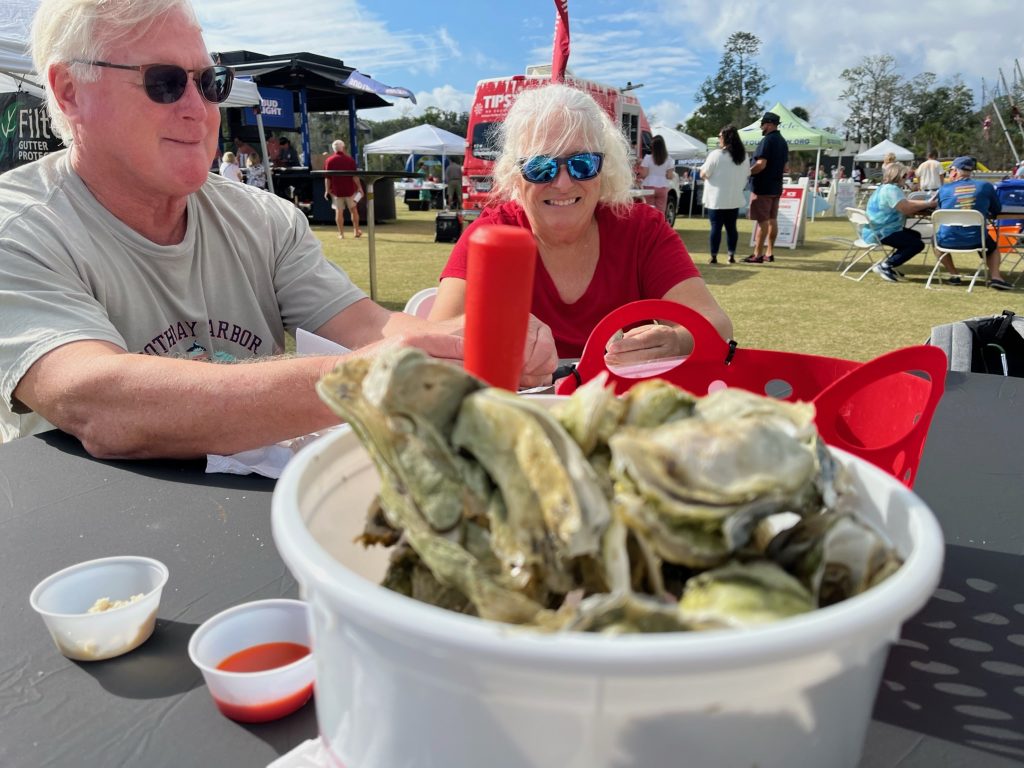 Friends with boats in the path of Nicole saw winds in excess of 50 knots. St Augustine closed the north mooring field and got hammered pretty badly. I was lucky I stayed where I was and escaped the worst of it.
I'll drop the mooring here when the weather cooperates, and head to St Augustine, FL.