Beaufort, SC — 11•13•22
After Hurricane Nicole passed by without much issue in Beaufort, I was ready to keep heading south to warmer weather.
My quickest way out was to go under the McTeer Bridge, which I had avoided getting to Beaufort. I could go back the way I came but it would add about 4 hours to my trip. The bridge was listed as 65 feet. Trouble has an air draft of about 69 feet. While the mast was off this summer I replaced the VHF antenna with a "Whip" one so if hit it could bend instead of break. The tides in South Carolina are pretty big so I figured I could sneak under it at low tide. I took the dinghy down to the bridge at low tide to read the "Tide Boards" on it. It was showing 71 feet. I decided to give it a go and planned my departure to get under the bridge at low tide.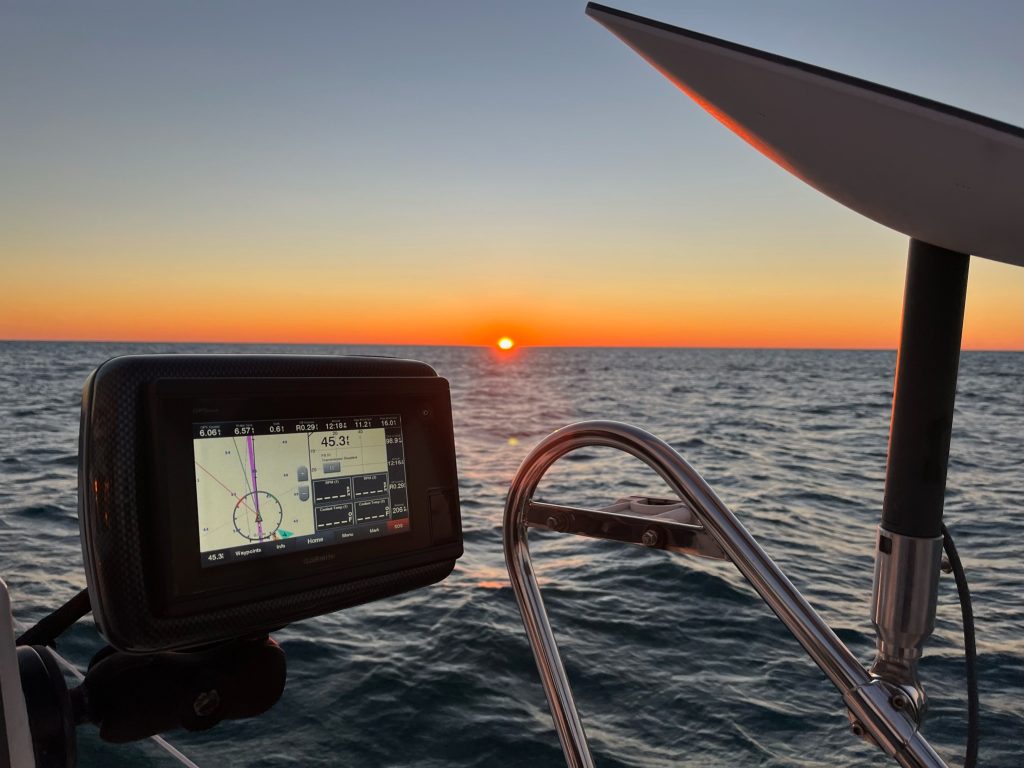 Sailboats, Bridges, Tides, and Currents
I dropped my mooring before sunrise and headed out on an overnight sail to St Augustine, FL. My first worry was getting to the bridge at low tide and sneaking under it. As I got to the McTeer bridge just as the sky was getting lighter, I read the Tide Board from my binoculars, and my heart sank. The Boards were reading 68 feet! Yikes, I was hoping for at least 70. The winds must have been pushing the water up the river causing it to read high. I went for it VERY SLOWLY. I was expecting to see my whip antenna ping across the girders. But Trouble, going at half a knot, didn't touch the bridge. Looking up at the bridge while you do this you are sure you're going to hit. I was thankful I got through and kept heading out.
Trouble put her sails up and we had an uneventful overnight sail to St Augustine.
St Augustine, FL — 11•14•22
The St Augustine inlet can be tricky, but I have been through it many times and had no issues. I came through the Bridge of Lions and pulled into the City Marina Fuel Dock.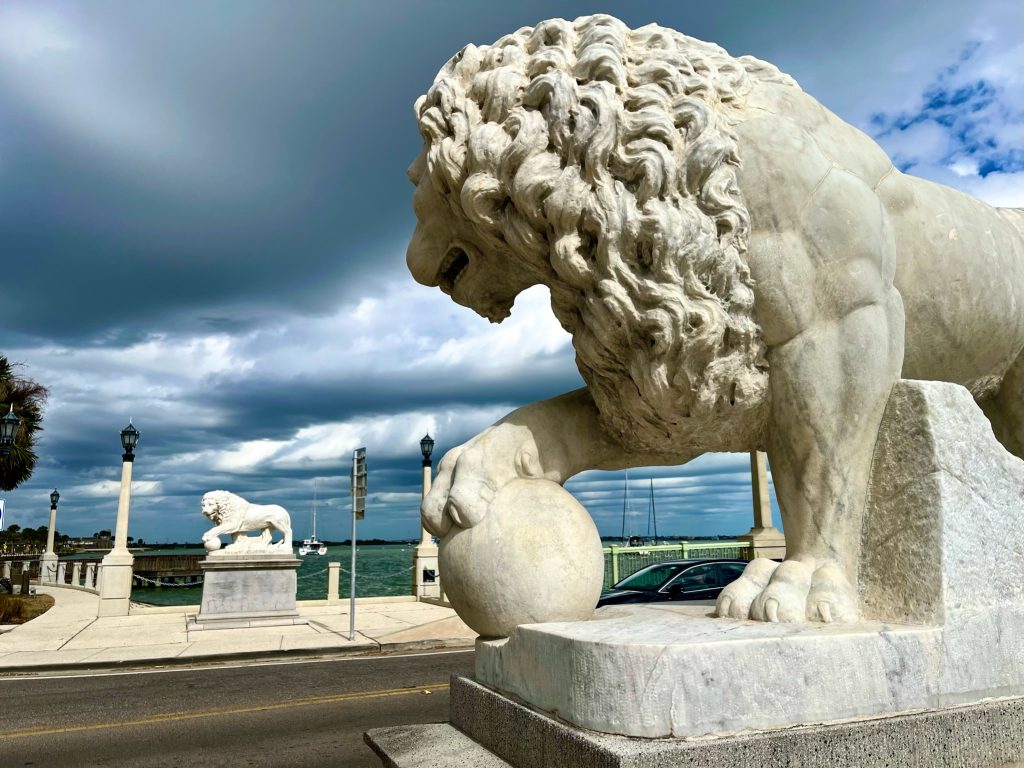 After topping off Trouble I headed to my assigned mooring ball, 26 in the south field.
Next, I was off for an early dinner, then off to bed for rest after my passage.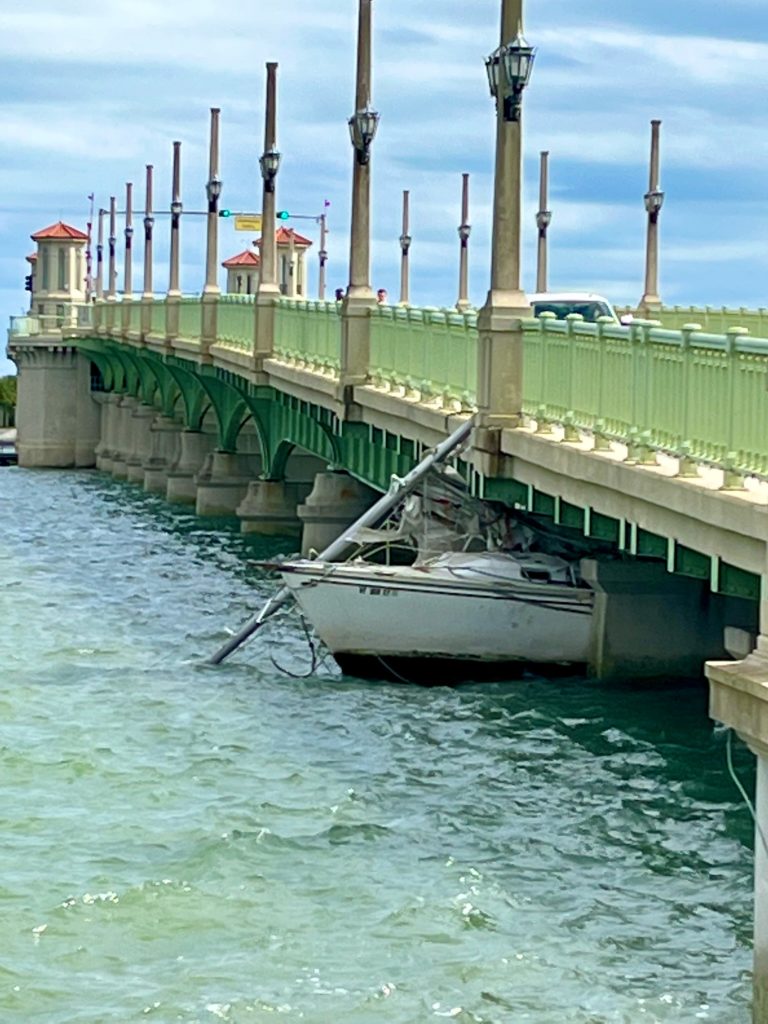 I only spent a couple of days in St Augustine. My old college friend came by and we grabbed some lunch and some provisioning. I also walked around and saw some of the damage from when Nicole hit only a week ago.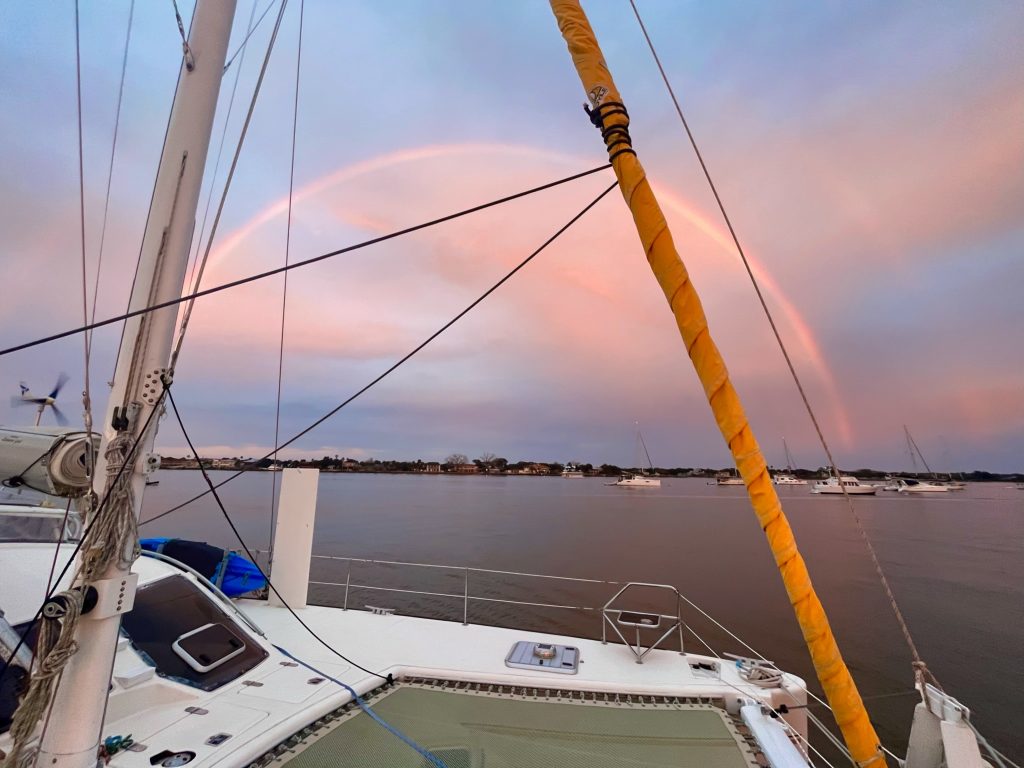 Prepping for Departure — 11•16•22
0600 – dropped mooring for departure to West Palm Beach about 211 nm. I called Bridge of Lions for an opening and cleared through still in the dark and a bit of misting fog.
The wind was mostly behind me and I kept having to gybe the boat as the wind shift a little to either side of dead downwind. I put a reef in the main for the night. Better to reef early in the light than to try to do it in the middle of the night when the winds pick up. This was prudent as the winds did kick up in the early morning.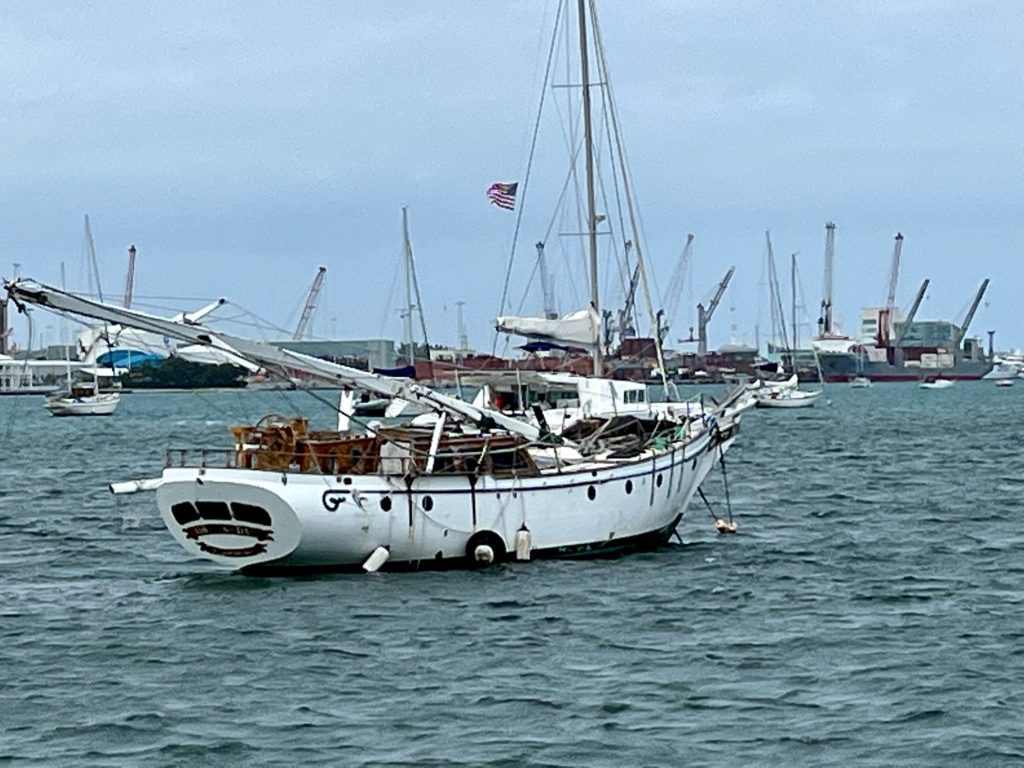 West Palm Beach — 11•17•22
1330 ( 1:30 pm ) Anchor down in my usual spot in West Palm Beach. The wind was blowing pretty good, but the holding here is good. I was only staying the night as I wanted to get into Ft Lauderdale the next day before the thunderstorms came through.
0330 (3:30 am) I was up and getting underway the next morning. Thunderstorms were expected in the afternoon and I wanted to get into my slip before then along with a slack tide. I had never been to this marina before and didn't want any surprises.
Bahia Mar Marina, Ft Lauderdale — 11•18•22
The trip to Ft Lauderdale was uneventful except for having to hug the shoreline to keep out of the Gulfstream which runs along the coast here. Trouble and I pulled into the Ft Lauderdale Channel and Basin and missed the 17th street bridge opening by a minute. I just hovered around for a half hour till the next opening.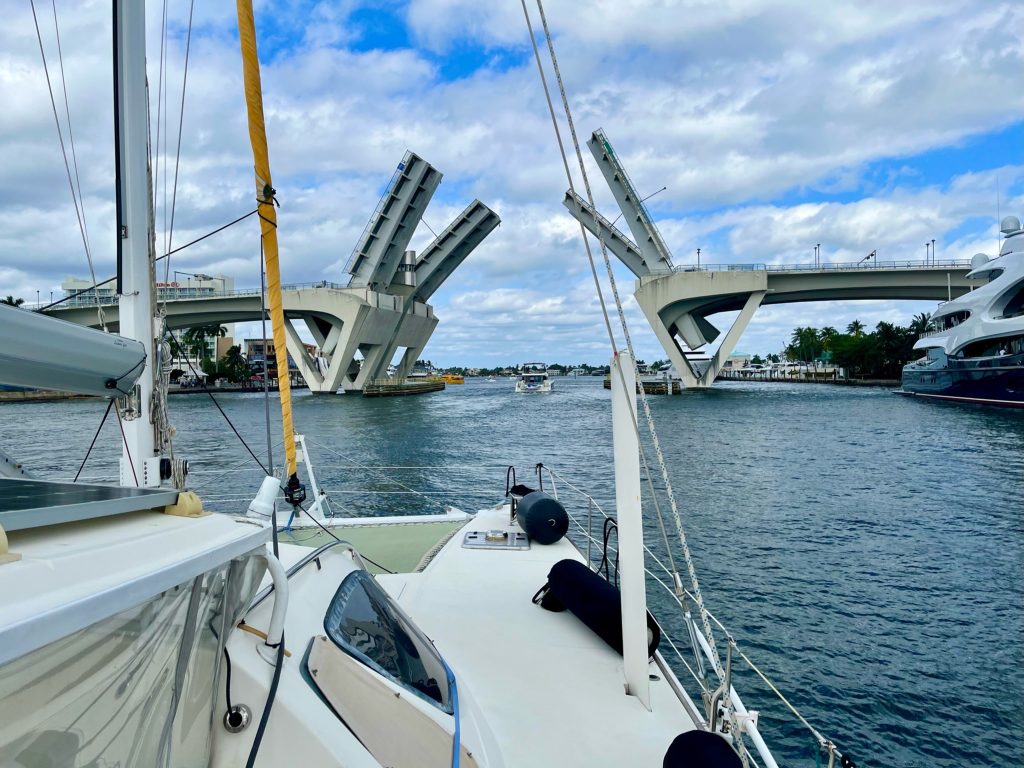 1210 I pulled into the Bahia Mar Marina fuel dock. I've fueled up here before and it's easy in and out. I got my slip assignment and after topping off I followed the direction to my slip. They put me far from the mega yachts but the slip was wide and the staff was very helpful in helping me dock. Bahia Mar was the most expensive marina I've stayed at so far. It was very convenient for me, but I think next time I might try a different spot. Our options in Ft Lauderdale a dwindling each year, along with prices going up.
I was here for a friends and family Thanksgiving. I also got some provisioning done for my crossing to the Bahamas. The weather was warm now and long pants and socks were put away.