Double Breasted Cay, Raggeds — 04•05•22
0830 hours, engines on, anchor coming up. I've got to get to George Town to submit my taxes. I was not getting text messages for the two-factor authentication log-on, for my brokerage accounts. Water Cay was my destination for the night, but I bailed out at Flamingo Cay as the wind did not shift as much as I had hoped.
Flamingo Cay, Jamentos — 04•06•22
Early departure for George Town. I used the shortcut at Hog Cay Cut that I had used the last time I came out of the Raggeds. After the cut, I had a great downwind run into George Town. The anchor was down at 1440 hours (2:40 pm) and even made my first provisioning run that day.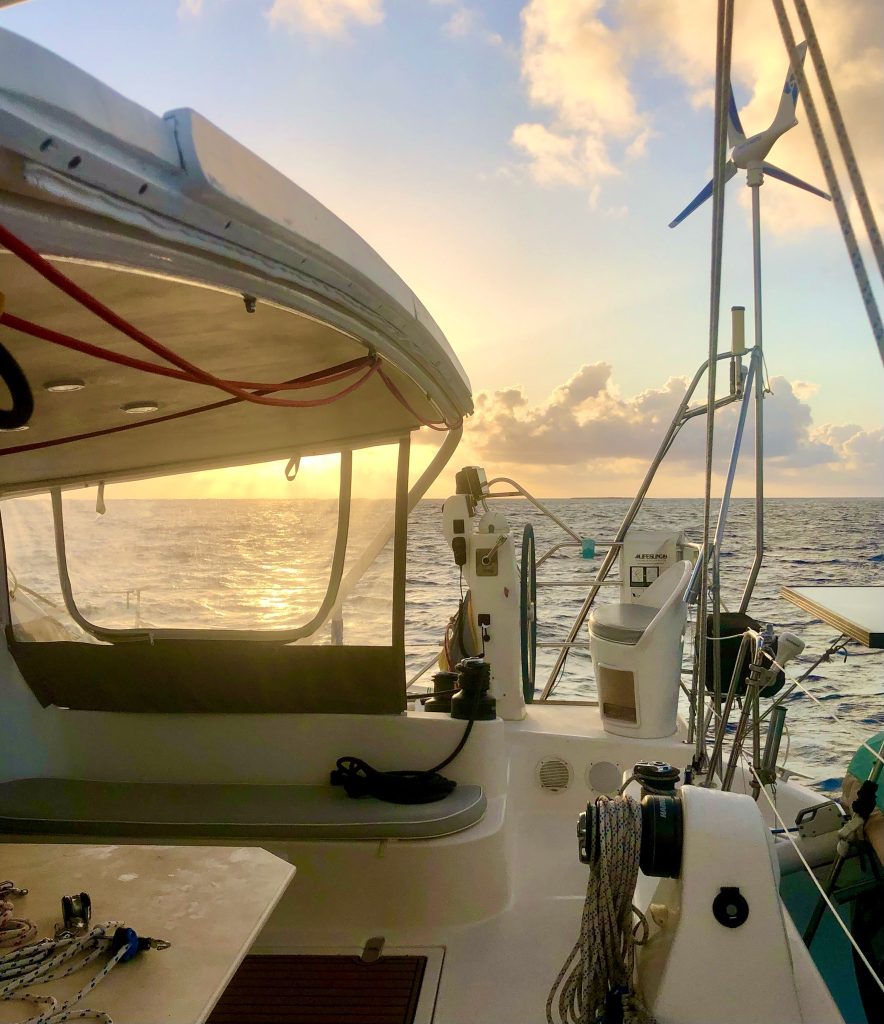 George Town, Great Exuma — 04•07•22
After submitting my taxes a fuel top-up and two more provisioning trips to Elisabeth Harbour were in order for the day. Next was what was the agenda going forward. I decided to head to Lee Stocking Island for the next front coming through and figure out the future plans.
The Spinnaker Run — 04•08•22
Trouble has had a spinnaker on board but I had never used it. In fact, I don't think the previous owners had used it more than once or twice. My worry was that if I put it up by myself I could run into issues and not get it down by myself. While in Double Breasted I had pulled it out on the deck to inspect it and make sure I had all the sheets (lines) rigged properly. I even hoisted it up and partially pulled it out to give it a once-over. I was amazed at what great shape this sail was in. It was obvious it had hardly ever been used.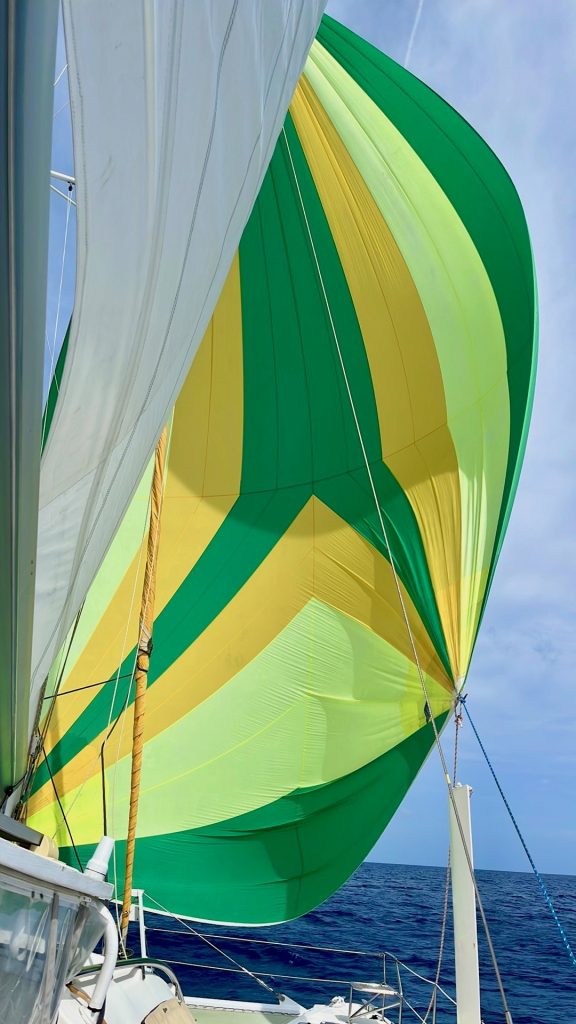 My run to Lee Stocking Island was mostly downwind in light air. This would be the perfect time to test it out. Trouble ghosted slowly out of the harbour by main only. As a result, a few boats behind me were catching up. They obviously had their engines on.
Hoisting The Spinnaker
I rigged and hoisted the sail and pulled the sock up and the large spinnaker started to fill, but it wrapped on the forestay and I needed to go forward and do a quick adjustment, then it billowed out beautifully. After a bit of trimming Trouble was scooting away from the boats behind. It was a spectacular run in the perfect wind. Not too little and not too much. I even went past the cut I usually go through so I could sail longer.
It was time to douse the chute. This is where I was worried that I might not be able to get it down. But I trimmed Trouble to drop it, released the sheets, and went forward and pulled the sock down the spinnaker. I then dropped it on the tramp and I was able to clean up the sheets. It was a nonevent. I felt better knowing I could do this by myself and can't wait to use it again.
Lee Stocking Island — 04•09•22
After the previous day of the awesome spinnaker run down to Lee Stocking Island, I just chilled on the boat and had one of the last two lobster tails I had in the freezer. I hung out here through the next weather front.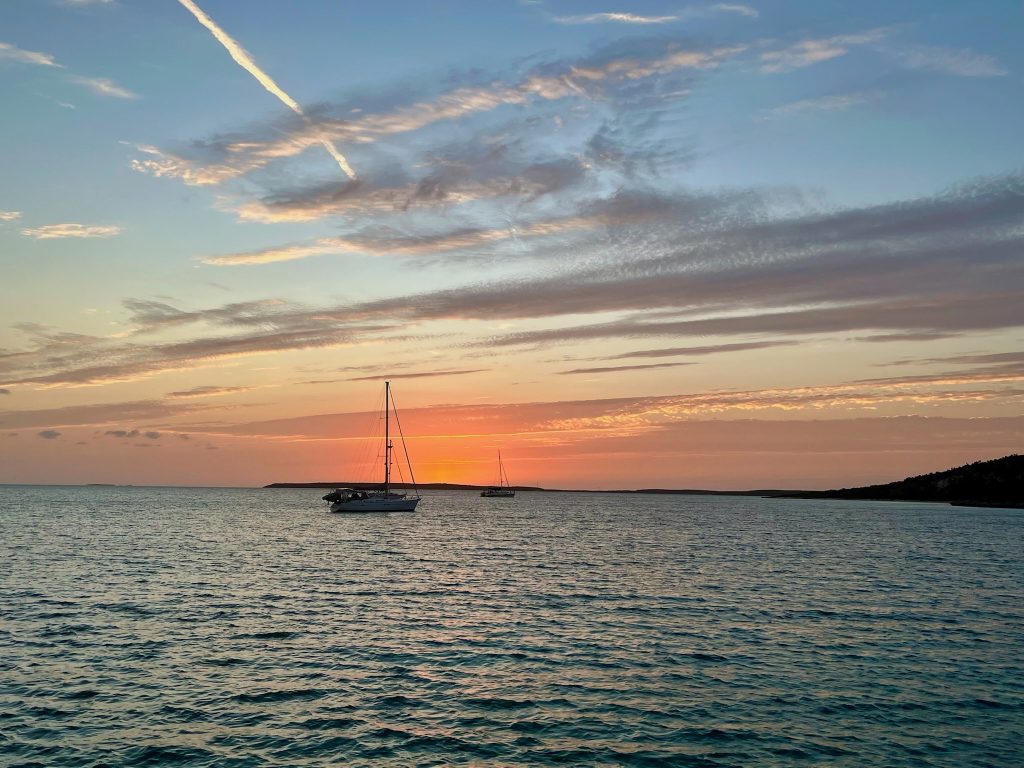 I was keeping an eye on the wind direction as I was planning to meet up with Cass from E Sea Ryder, who I cruised with last season. She came down to the Bahamas late with two other boats.
Bashing Upwind To Calabash
We planned to meet in Calabash in front of the Cape Santa Maria Beach Resort. They were coming from Cat Island which was going to be a rough ride. Trouble and I had to go directly upwind, so this would almost double my distance as I had to do a tack going upwind. 25 knots of wind and 6-8 foot seas. It was a super rough ride, but Trouble took it in stride. Her master was not as happy but it made for entertainment watching the bow plow through the waves.
E Sea Ryder and the other two boats made into Calabash before me. Cass and her flotilla had a really rough ride also. I pulled into the bay and dropped anchor. I rinsed off Trouble as best I could with fresh water as everything was caked in salt. After a quick dinner, I was off to bed early.
Calabash, Long Island — 04•14•22
The next morning Cass had us all over to E Sea Ryder for french toast and to tell tails of how big the waves were and how strong the wind was.